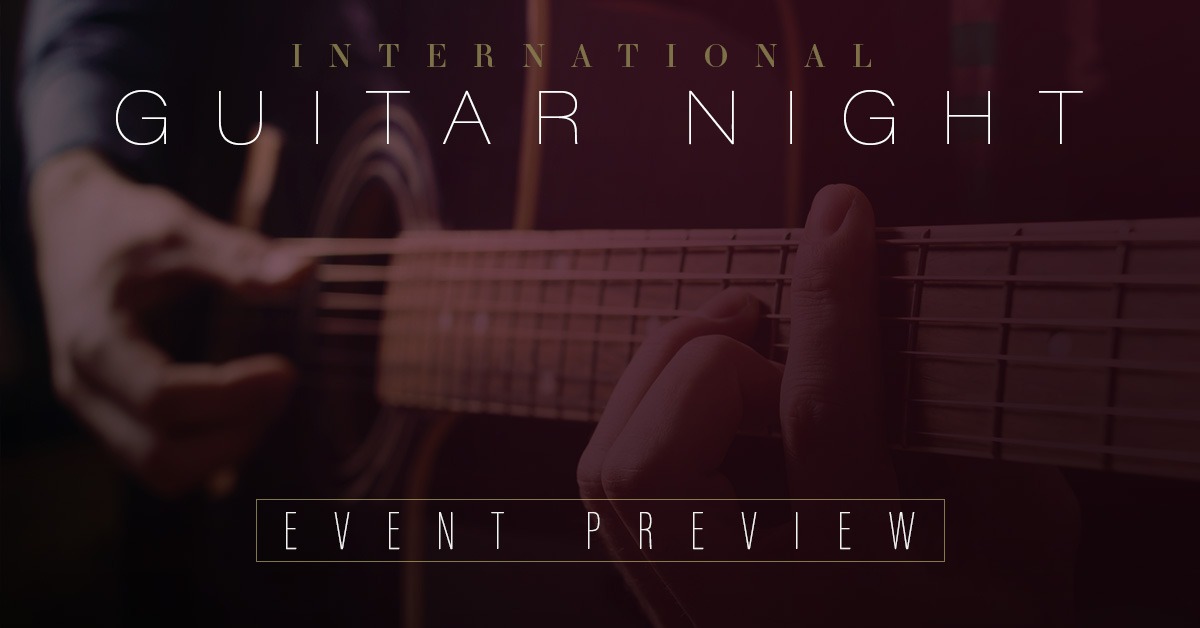 For nearly two decades, guitarist Brian Gore has united some of the world's foremost acoustic guitarists. The 2017 International Guitar Night will feature legendary gypsy jazz master Lulo Reinhardt, the innovative Italian contemporary guitarist Luca Stricagnoli, the brilliant young Brazilian performer Chrystian Dozza, as well as India's groundbreaking slide guitarist Debashish Bhattacharya. Each of them will present their latest works individually prior to performing as a group. International Guitar Night is all about sharing musical ideas and exploring the diversity of the acoustic guitar world.

Lulo Reinhardt
The grand nephew of Django Reinhardt, Lulo was first taught by his father at the age of five. It didn't take long for Lulo to co-found the group "Django Reinhardt and the Heartbreakers." He then founded "I Gitanos" with his father and cousin, touring Europe and establishing a national reputation.
By 2002, Lulo founded the Lulo Reinhardt Project, which allowed him to express his passion for Latin music. Lulo would tap into that Latin music even more so just five years later when he was inspired to compose more Swing material. Now known as the Lulo Reinhardt Latin Swing Project, the group thrives on its international presence, playing in America, China, France, Switzerland, Belgium, England, the Czech Republic, and other spots worldwide. Lulo also performed as a soloist with International Guitar Night troupe in 2009 and 2011.
Luca Stricagnoli
A young, dynamic guitar player from Italy, Stricagnoli taught himself new and original playing styles with the ability to use different instruments. Over the years, he's developed non-conventional ways to play the guitar that has helped him increase his popularity. Fast forward to today, where Stricagnoli performs all over the world. He will be making his North American debut with this year's International Guitar Night.
Chrystian Dozza
Dozza highlights a new generation of Brazilian instrumental musicians. Since 2006, he has recorded three CDs made up of his original compositions and creative arrangements of Brazilian classics. Not only is Dozza a solo artist, but he also plays with a chamber music group, as well as a guitar trio. Dozza teaches guitar as well. Similar to Stricagnoli, Dozza will be making his North American debut with International Guitar Night.
Debashish Bhattacharya
Bhattacharya gave his first guitar recital at the age of four. He would soon begin to create his own style of plaything guitar, synthesizing selected features of other instruments such as the Veena, Sitar, Sarod and Kannur. At 21, Bhattacharya was awarded the President of India award. Today, he is arguably the greatest slide guitarist in India. His work offers incredible musical range, physical dexterity, and emotional depth.
International Guitar Night will be held Sunday, Feb. 19 at 3 p.m. at the Bankhead Theater. LVPAC offers student and active military prices for all performances. General admission seating for this event is $30.
If you've never been to the Bankhead Theater, you're in for a treat. Audience members and artists alike appreciate the intimate feel and the unrivaled acoustics. LVPAC is Livermore's home to incredible live music and performances.