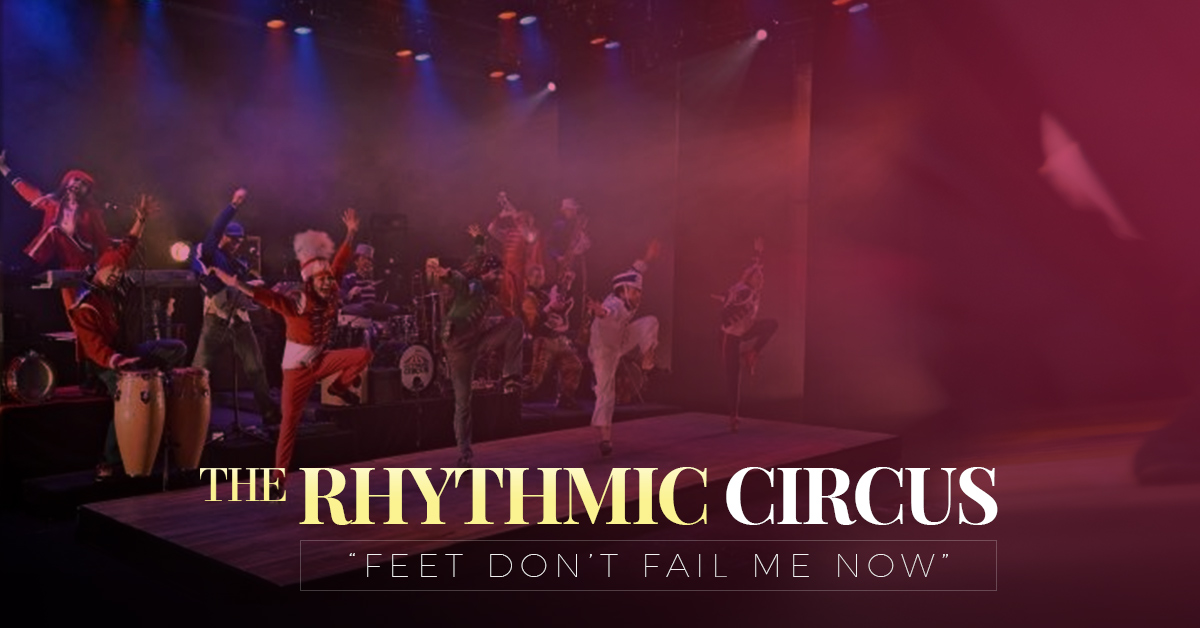 Mixing hard-hitting percussive dance and a live rock band, "Feet Don't Fail Me Now!" premiered in 2008 and has gone on to rave reviews, numerous awards, and sold-out venues across the country. The dancers of Rhythmic Circus joined forces with the seven-piece band's big, brass sound and together they integrate an inventive style of rapid-fire tap with a variety of musical genres. Their exhilarating and dynamic show presents a wildly creative view into the indomitable power of the human spirit.

Livermore Valley Performing Arts Center is proud to host Rhythmic Circus for an evening of a cappella singing, a percussive chair routine, tap number, and so many other lively performances. As you can see on the show's website, "Heatbox" the human beatbox joins the swingin' seven-piece funk band to accompany each tap, shuffle and stomp.
History of the Show
"Feet Don't Fail Me Now!" debuted in the summer of 2008 in Minneapolis when the group's dancers and founders teamed with a number of well-known musicians in the Twin Cities. What resulted was an inventive, unique style of tap with a variety of musical genres to create a wildly engaging show. For years since its debut, the show has garnered rave reviews and packed venues. "Feet Don't Fail Me Now!" took home a pair of SAGE Awards for Outstanding Ensemble and Performance, a Spirit of the Fringe Award, two Upper Midwest Emmys and was named "Best Dance Performance" by City Pages.
If you've never been to your local performing arts center or just want to enjoy an evening of live music and dancing, then "Feet Don't Fail Me Now!" is for you! We're certain that you'll be jumping out of your seat and dancing to the beat of this genre-hopping music and hard-hitting percussive dance.
"An exuberant, toe-tapping, hand-clapping hour of music and dance that adults will enjoy as much as kids." – Theater Mania
On Tap at Livermore Valley Performing Arts Center
Come join us for a variety of performances in April! Here's what we currently have on our events calendar.
Monday, April 3 – The Naked Magicians
Friday, April 7 – The Wonder of Elvis: Tribute
Saturday, April 8 – Transfigurations
Thursday, April 13 – Arlo Guthrie
Saturday, April 15 – Come Together: The Beatles Concert Experience
Wednesday, April 19 – Abby Mann's Judgment at Nuremberg
Friday, April 21 – Cherry Poppin' Daddies
Sunday, April 23 – Breathtaking Brahms
Thursday, April 27 – Robert L. Gallucci
Friday, April 28 – Riders in the Sky
Saturday, April 29 – Lucie Arnaz
Sunday, April 30 – The San Francisco Scottish Fiddlers

The Performance
Rhythmic Circus "Feet Don't Fail Me Now" will take place Friday, March 31 at 8 p.m. in the Bankhead Theater of the Livermore Valley Performing Arts Center. Regular tickets range from $30 – $50. Tickets for students or active military are available for $16 (call to confirm.)Purchase now!

For the best theater experience in the area, choose LVPAC. Book your theater and concert tickets today so that you ensure your spot at some of the most highly anticipated musical shows, entertainment shows, and operas of the year.