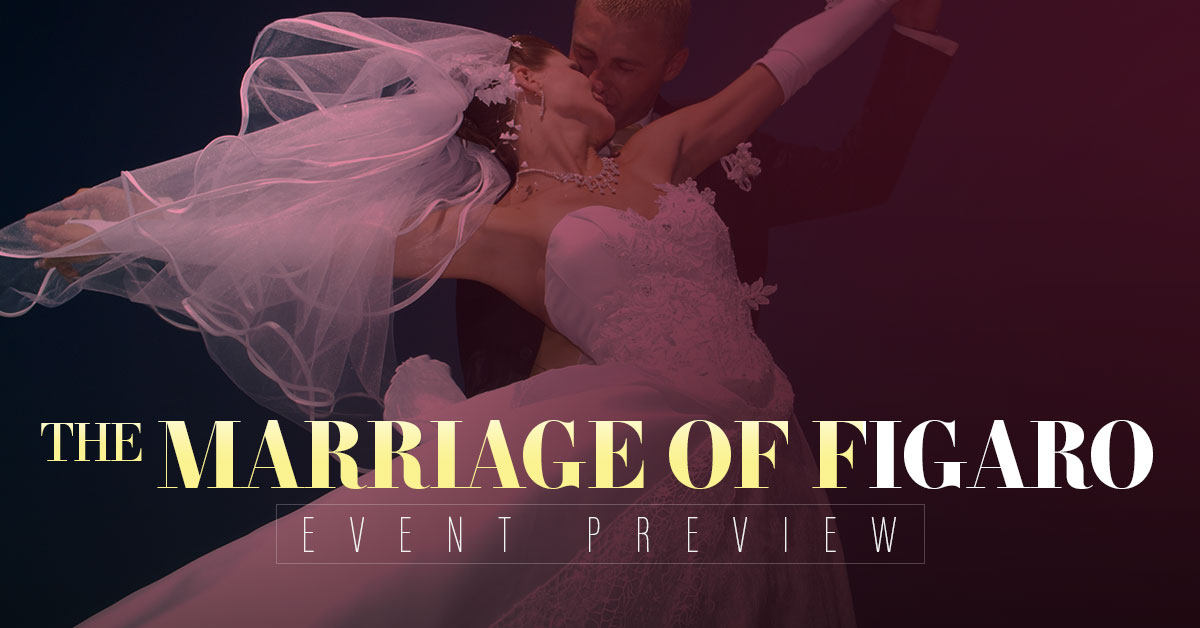 As the calendar flips to March, we are excited to have another event-filled month at Livermore Valley Performing Arts Center. Headlining the next few weeks will be several performances of The Marriage of Figaro by Amadeus Mozart, the comic opera composed by Amadeus Mozart.

The play takes place in the castle of Aguas Frescas outside of Seville in the late eighteenth century. The opening act begins as the engaged Figaro and Susanna are preparing for their wedding day. Figaro is happy with what will be their new room, however, Susanna is perturbed by the room's proximity to where the Count sleeps. Susanna explains that the Count has been making advances toward her and plans on reinstating the right of a lord to bed a servant girl on her wedding night before her husband can sleep with her. Naturally, Figaro becomes irate and begins his plot to outwit the Count. The Count, meanwhile, plans to do whatever he needs to in order to avoid Figaro's traps and sleep with Susanna.
Those aren't the only characters that the audience is introduced to, though. Along with the Countess, we also learn about Dr. Bartolo and Marcellina. It doesn't take long to realize that Dr. Bartolo holds a grudge against Figaro. Marcellina, who used to work for Dr. Bartolo, is awaiting for money from Figaro. If the Count's servant fails to pay on his debt to Marcellina, the two are to be married. The final two major characters are Cherubino and Barbarina. Cherubino, who also works for the Count, is constantly having trouble while dealing with puberty. Barbarina, a teenage peasant girl, has a crush on Cherubino.
There are a number of other plots and sub-plots involved in The Marriage of Figaro. While much of the attention is on the Count, Figaro, and Susanna, the other characters find themselves in predicaments throughout the play as well. For example, Marcellina plots with Dr. Bartolo to prevent Figaro's wedding. Susanna's goal is to not only avoid the Count, but also restore his love for the Countess. At the same time, Susanna and Figaro go through a power struggle as their wedding day looms.
As you can imagine, there's no shortage of madness and comedy in the play. Toward the end, the characters wind up in the garden at midnight in an attempt to keep all their secrets. The Count, ironically, winds up wooing his own wife by mistake. A baffled Count then tries to shame his Countess when he thinks he's caught her with Figaro. However, it backfires and he turns out to be the one who's embarrassed in front of everyone. The always patient Countess forgives her partner after he falls to his knees and begs forgiveness. After a wild and wacky day for everyone, the characters are finally happy that things ended in love, and that fidelity has been restored.
Even today, The Marriage of Figaro remains one of the greatest masterpieces of comedy in music. We will get started Saturday, March 11 at 4:30 p.m. with an Opening Night Gala Dinner at Uncle Yu's. The first showing will follow at 7:30 p.m.
Additional Showings   
Sunday, March 12 at 2 p.m.

Saturday, March 18 at 7:30 p.m.

Sunday, March 19 at 2 p.m.
More About the Livermore Valley Performing Arts Center
For years, the Bankhead Theater has hosted one incredible performance after the next. In its first season, it hosted more than 200 performances and civic events, captivating more than 76,000 individuals. The Bankhead also reached more than 14,000 school children across Livermore and the Bay Area. Our mission continues to be to provide access to performances and events that stir the imagination, creativity, and emotion while serving as the heart of a vibrant cultural arts community.
Our LVPAC Presents series features more than 40 performances each year. We feature a wide variety of live music genres, from authentic western swing and the Great American Songbook to classic rock, smooth jazz, and world music. Of course, we're also the go-to choice for dance, acrobatics, theater, opera shows and comedy. The Bankhead provides a truly extraordinary atmosphere when it comes to experiencing the arts.