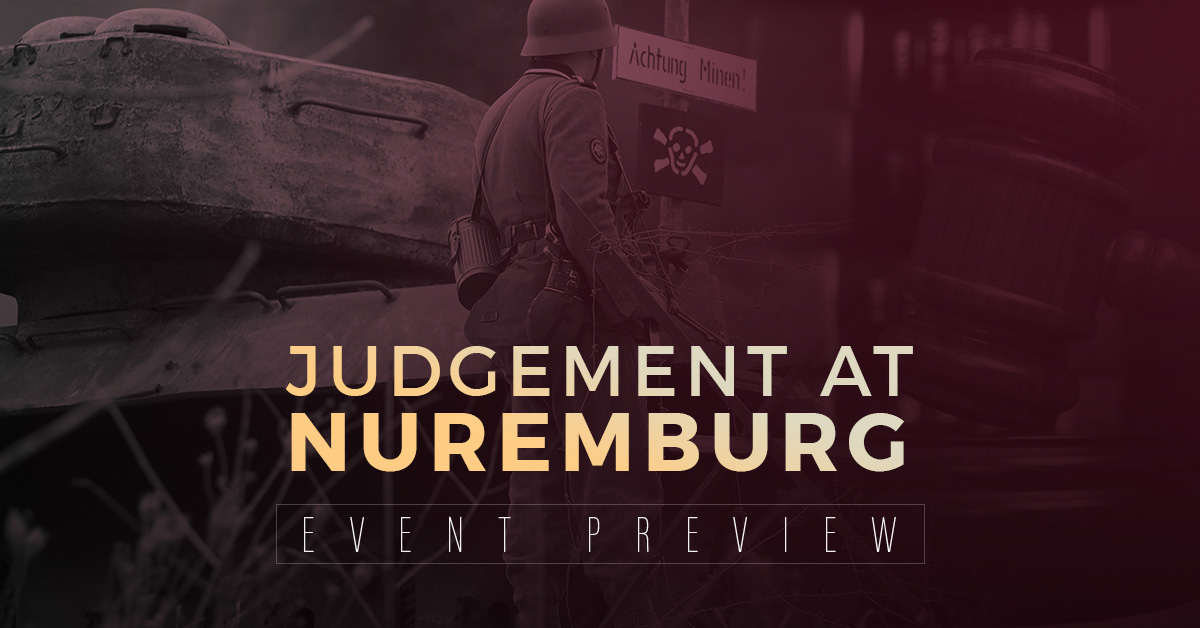 Judgment at Nuremberg, based on one of the most popular courtroom dramas of the last century, became an Academy Award-winning film and stage play. The piece has an uncanny ability to leave an audience both unsettled and wanting to know more. In Judgment at Nuremberg, the characters play out a high-stakes game against the backdrop of a looming Cold War, shifting political alliances, as well as fresh memories from World War II.

L.A. Theatre Works returns to the Livermore Valley Performing Arts Center and Bankhead Theater with the production of Judgment at Nuremberg. The Nuremberg Trials continue to be remembered as a major turning point in our global narrative. These particular events forever impacted our notions of judgment, retribution, and vengeance.
See below for a snippet of the Q&A segment that can be found in our theater program the night of the event. It features producing director Susan Albert Loewenberg and some of her insights into the historical backdrop of the story.
Q:  The play is based on the war tribunals after WWII. It was a multi-country effort (led by the United States) to hold Nazi war criminals accountable for their crimes against humanity. Does the play demonstrate, and at what cost, that justice was served?
SL: The play does not take a stance on history, nor does it come to a conclusion on whether justice was served. Rather, it presents a moral argument—what is "justice" for something as horrific as the Holocaust? The play demonstrates what it takes to have that conversation, and how important it is to have it. The play asks, "What is justice in today's global narrative?" It also explores whether an independent judiciary can be truly independent in a politically-charged environment. 
Q: The play explores the aftermath of one of the darkest times in world history. What makes this piece, set more than half a century ago, relevant today? What lessons were learned or ignored? 
SL: The Nuremberg trials forever impacted our notions of jurisprudence, retribution, and vengeance, and there seems to be no more timely moment for them to be discussed than right now. In today's world, how can we possibly talk about what is "fair" or "right" when grappling with genocide, police brutality, and acts of terrorism? In order to maintain stability, rules must be upheld, and retributions inflicted—the trials taught us this. In the face of unspeakable horror, what is good and what is bad becomes blurred. The play defines the role of judgment and personal responsibility in a world where "right" and "wrong" have lost definite meaning.
The Performance
Judgment at Nuremberg will take place Wednesday, April 19 at 7:30 p.m. in the Bankhead Theater. Ticket prices for the event range from $35 to $60. Remember that our performing arts center offers student and active military prices. Please give us a call or visit the box office to book your tickets.
From stage plays and live music to musical shows and theater, see why LVPAC is the premier spot for performing arts enthusiasts. Hurry and book your tickets to Judgment at Nuremberg, as they're selling fast!