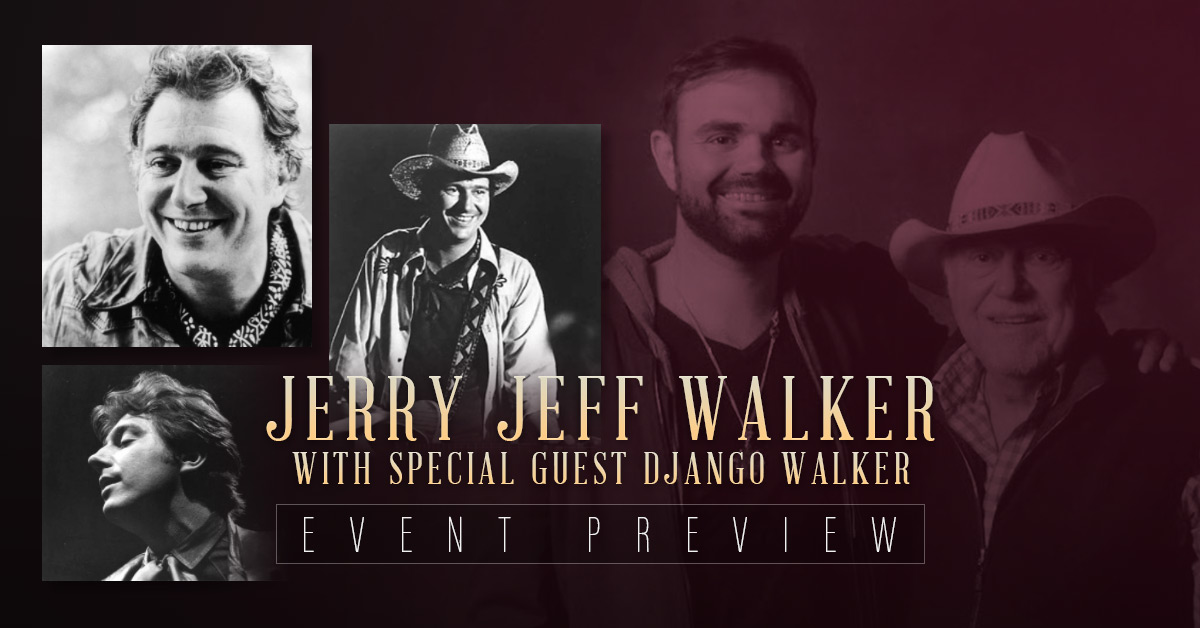 You may know Jerry Jeff Walker as a man who has broken more new ground in the field of having fun than anyone else. But it's his indelible mark on the world of country music that has turned him into an icon. Known for the popular hit "Mr. Bojangles," which has been covered by nearly four dozen artists from all musical genres, Walker has always brought a unique brand of folk rock to traditional country music. With song shot through with a touch of the "outlaw," Walker has influenced multiple generations of musicians while earning himself a crowd of dedicated fans. The Livermore Valley Performing Arts Center is thrilled to welcome in Walker and his son, Django, to deliver a must-see Father's Day show that unites their talents and celebrates two generations of music making.

Get to Know Jerry Jeff Walker
On his official website, it's mentioned that there's a photo on the back of a Jerry Jeff album that sums it all up. He's outside a roadhouse on a desolate highway at nighttime. With his collar turned up against the wind as he hunches over to light a cigarette, his guitar is slung around his back. "It's hard to tell if he's entering or leaving the roadhouse, but either way you figure he's got many miles to go before he sleeps." Even during his wildly successful days in the '70s and '80s, it's believed that this was the mindset of Jerry Jeff.
The country music star began his journey and quickly established himself as an up-and-comer in the musical community. Jerry Jeff's career took off as he piled up records for MCA and Elektra before forming his own independent label, Tried & True Music, in 1986. Today, his album catalog sits at 33 in total.
Jerry Jeff's accomplishments speak for themselves. He's played for a handful of presidents and toured in Lear Jets. One would think that will all the fame, a musician would ditch his old ways. But none of it has prevented Jerry Jeff from continuing to see the world in the eyes of a troubadour. His website explains that "his songs are the way he makes the world make sense, how he passes on stories of the people he meets and the way he feels on a given morning." Jerry Jeff is now back to his singer-songwriter roots, bringing his career full circle.
Like Father, Like Son
Django Walker took after Dad at a young age, learning to play guitar at age 15. Soon after, he wrote his first song, "The Road You Choose," and performed it on stage at his father's shows. Django's debut album, Down the Road, was released in 2002. Similar to Jerry Jeff, Django went the independent route for his record label, forming Lazy Kid Music. The CD was recorded in a mere five days and Django wrote all but one of the songs himself. One of them, "Texas on my Mind," even topped the Texas Music Chart at one point.
Four years later, Walker released his second CD, Six Trips Around the World. It was produced by the Mark Bryan of Hootie and the Blowfish and was recorded at Bryan's home.
In terms of style, Django's works reflect a number of different influencers. From Bob Dylan and The Beatles to Merle Haggard and Willie Nelson, the 35-year-old features a style that some reviewers have labeled as "unique country" and "classic cock with undertones of good old Southern comfort."
The Perfect Way to Spend Father's Day
What better way to spend time with Dad than by taking in a rare father-son show featuring two of the most well-known names in country music? "Jerry Jeff Walker with Special Guest Django Walker" will take place Sunday, June 18th at 3 p.m. at the Bankhead Theater. All seats are $40 with $16 tickets  available for students and active military personnel.  If you've never been to the Bankhead, you're in for a treat. The design of this venue promotes an intimate feel for both performers and audience members alike. Our center for performing arts offers student and active military prices for all performances.
Make this Father's Day one to remember with live music! Please call or visit the box office to book your tickets. Don't forget to check out the rest of LVPAC's musical shows, entertainment shows, and so much more.