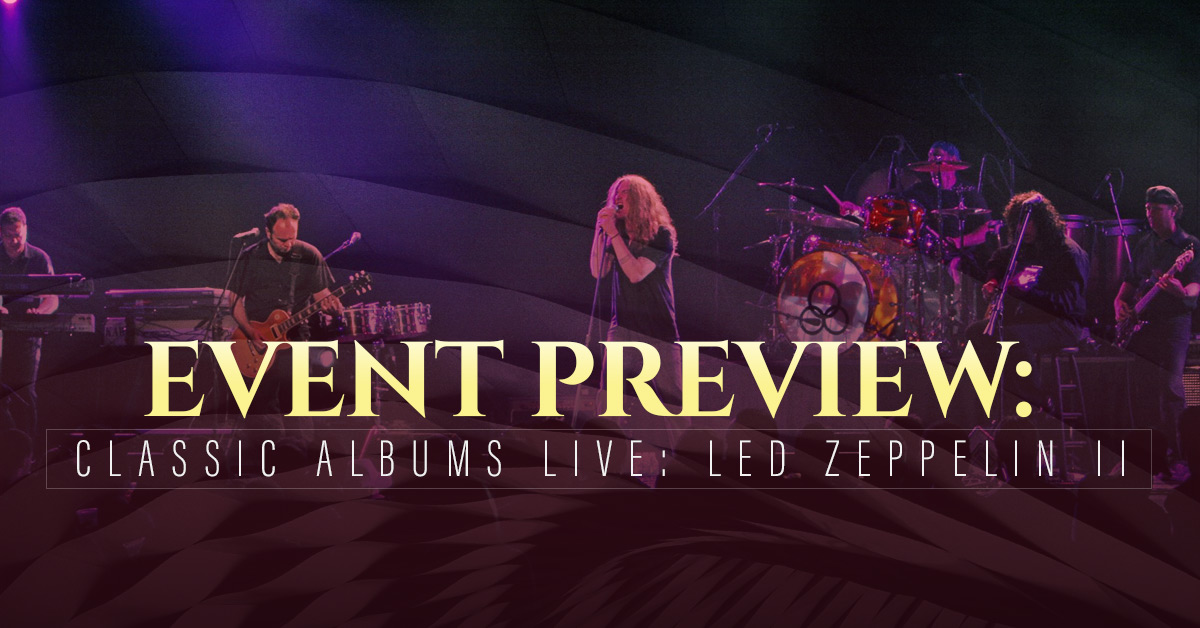 Get ready for one of the "500 Greatest Albums of All Time" to come to life on the Bankhead Theater stage when Classic Albums Live arrives later this month. A Canadian-based group familiar to rock music aficionados, Classic Albums Live brings together world-class musicians to perform some of the most famous albums. The group will perform Led Zeppelin's iconic second album in its entirety, including iconic hits such as "Whole Lotta Love," "Heartbreaker," "Moby Dick," and "Bring It On Home."
About Led Zeppelin
It wasn't much longer after their first album that Led Zeppelin got to work on No. 2. The quartet of Robert Plant, Jimmy Page, John Bonham, and John Paul Jones pulled the album together over six months in 1969 while on tour throughout North America and London. Not surprisingly, "Led Zeppelin II" was one of the most eagerly anticipated albums of the time. It's safe to say that the result lived up to expectations and more. In fact, Led Zeppelin II" topped U.S. charts by the end of the year, bumping the Beatles' "Abbey Road." Rolling Stone called the work "one of the greatest, heaviest, and raunchiest albums ever, steeped in both Delta and Chicago blues, Sixties psychedelia and gentle-to-bone-crushing dynamics." In November of 1999, "Led Zeppelin II" was certified 12x Platinum by the Recording Industry Association of America for sales passing 12 million copies.
What's interesting about this album is that each song was separately recorded, mixed, and produced at various studious in the UK and North America. The album was basically written on tour during periods of few hours in between concerts. As you might have guessed, the result was a sound featuring spontaneity and urgency through necessity.
An Inside Look at Classic Albums Live
Craig Martin, the group's producer, said that he founded Classic Albums Live in 2003 after hearing too many poor tribute bands. Ultimately, he wanted to provide the audience with a more musically authentic experience. Martin started with a small venue in Phoenix and gradually grew in popularity from there. Soon, Classic Albums Live was filling some of the most prestigious venues across North America. Of course, it took more than just the effort of Martin to take the group to uncharted territory. It's why he makes it a point to select exceptional musicians who focus on playing the world's most well-known and familiar rock albums with absolute detail and precision. Martin compares the group to a symphony orchestra performing the works of great composers. It won't take long for diehard Led Zeppelin fans to realize that every note of the album, including vocals and sound effects, is faithfully recreated. This is what Classic Albums Live refers to as a "rock immersion experience." As Martin says, this is music the band members grew up with. The group knows the songs inside and out and, in the preparation process, spends hours listening to each note carefully, finding ways to perform it live without any recorded elements. Classic Albums Live brings in as many musicians and instrumentalists as are needed to accurately recreate each album.
The Performance
Classic Albums Live: Led Zeppelin II is set to take place Saturday, April 21st at 8 p.m. Ticket prices start at just $40 with $17 tickets available for students or active military personnel.
The Bankhead Theater
For more than a decade, the Bankhead Theater has been bringing artists and audiences together to share the rich experience of live performance. Here at LVPAC, it's apparent that exposure to the arts has the potential to transform lives. For example, seeing, hearing, and taking part in a performance can be exhilarating for young people as they grow and develop, fueling a new level of creativity.
Let's talk about the Bankhead briefly. This 507-seat facility makes the perfect environment for live music, theater, dance, and other performances. Artists at all levels agree that performing in such an intimate venue provides a number of benefits. In fact, the Grammy Award-winning vocal group Chanticleer praised the Bankhead for its incredible acoustics. Not surprisingly, artists looking to make a transformation of their own have chosen to make it a stop on their tour.
We hope to see you for what should be a fun evening with Classic Albums Live. Check out our events calendar today!