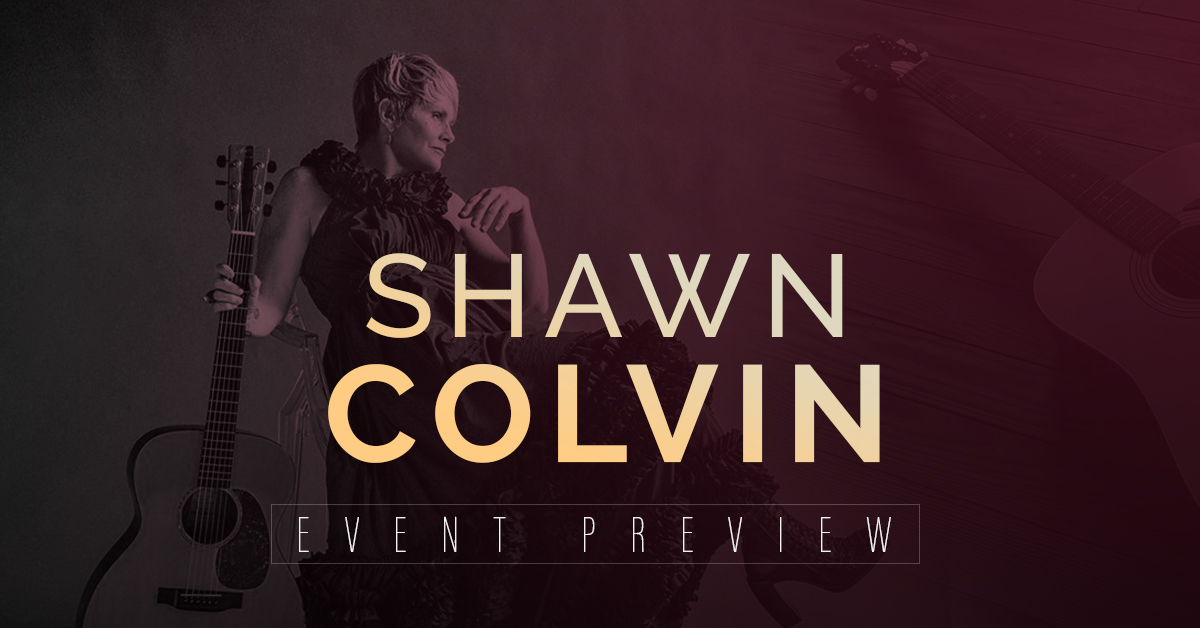 Best known for her Grammy Award-winning single "Sunny Came Home," singer/songwriter Shawn Colvin will bring her unique storytelling style of folk-pop to the Bankhead Theater on Thursday, June 21st. For decades, Colvin has been known for her keen observations and ability to infuse even the toughest of tales with tenderness, empathy, and a sense of humor.
About Shawn Colvin
"Steady On," Colvin's debut album, won a Grammy for Best Contemporary Folk Recording and "A Few Small Repairs" followed a few years later, giving her a Top 10 hit and Grammys for both Song of the Year and Record of the Year. Since then, she has released 11 albums, collaborating with a number of artists. On top of that, Colvin has written a critically acclaimed memoir and was honored with the Americana Music Association's Americana Trailblazer Award in 2016.
She continues to maintain a busy touring schedule, enchanting fans and winning new listeners with her deeply personal stories in song.
Colvin first started playing guitar at the age of 10 in Carbondale, Illinois. By the late 1970s, Colvin was singing in a western swing band in Austin, Texas. Soon after, she moved to New York to become a member of the Buddy Miller Band.
It was during this time that Colvin met producer, guitarist, and co-writer John Leventhal. Interestingly, it was Leventhal who inspired Colvin to find her own voice as a songwriter. Before you know it, Colvin signed with Columbia Records and released her first album.
In 1996, she released "A Few Small Repairs," which would prove to be her breakthrough. The murder-ballad "Sunny Came Home" gave Colvin a top 10 hit, a platinum-selling album and two of Grammy's biggest honors: Record of the Year and Song of the Year.
Colvin was recently recognized for her career accomplishments when she was honored with the Lifetime Achievement Trailblazer Award at the 2016 Americana Honors & Awards Show. Bonnie Raitt had the honor of presenting Colvin with this prestigious award. Said Raitt, "She's simply one of the best singers I've ever heard – and a truly gifted and deep songwriter and guitarist."
In celebration of the 20th anniversary of "A Few Small Repairs," Columbia Recordings will be releasing a newly expanded edition of the album Friday, September 15th. This expanded edition will include seven rare live performances from the Sony Music archives, plus enhanced artwork including newly written liner notes by Colvin and producer John Leventhal and recently discovered archival photos. The tour will feature Colvin performing the album in its entirety alongside a variety of hits, personal favorites, and surprises from her repertoire.
The performance
The Livermore Valley Performing Arts Center is excited to welcome Shawn Colvin to the Bankhead Theater on Thursday, June 21st at 7:30 p.m.
Be sure to purchase a VIP package for access to an intimate pre-show acoustic performance with Q&A, plus a photo opportunity with Colvin. The VIP package includes early access to the venue, a premium seat in the first three rows, acoustic performance, meet and greet, as well as a gift bag.