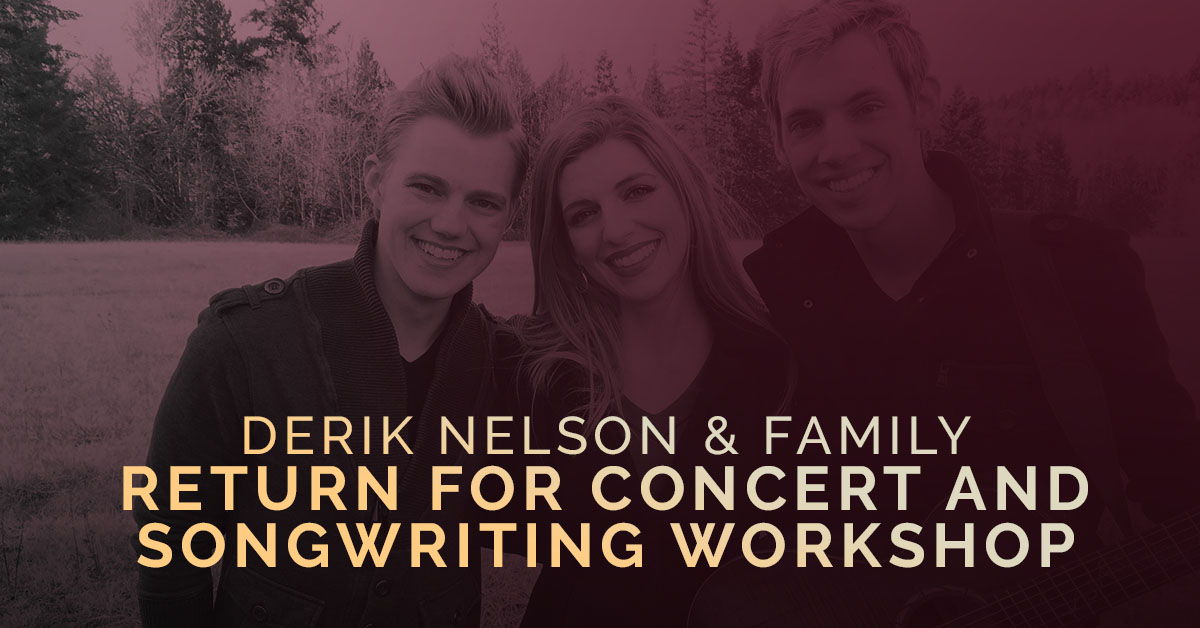 The Livermore Valley Performing Arts Center is excited to welcome back Derik Nelson & Family to the Bankhead Theater. Those in attendance will be treated to the group's jazz- and folk-infused interpretations of original and cover songs, showcasing the perfectly blended harmonies that only siblings can deliver. Keep reading to learn more about this iconic group.
About Derik Nelson & Family
Raised in the Pacific Northwest, Derik, Riana, and Dalten grew up singing. Derik, the oldest, began performing at age 7. By age 18, he had appeared in over 60 productions.
He didn't just limit himself to acting and singing, though. Starting at age 10, Derik learned to play the saxophone, the guitar, and the piano. Not long after, he began composing songs.
Derik was awarded the Brian Wilson Music Scholarship for songwriting and obtained his bachelor's degree in Music Industry from the University of Southern California. While earning his degree, he engineered and produced five full-length original albums. Derik also worked closely with music faculty and was instrumental in shaping the curriculum for what became the school's Popular Music program, the first of its kinds in the country.
In addition to his role on "Glee," Derik has written songs and sung for television shows such as "Raising Hope," "How I Met Your Mother," and "The Voice."
Let's move on to Riana, who co-directed the popular coed a cappella group "Amazin' Blue." Through the years, Riana has appeared on screen in "Cinnamon Girl" and "Glee," and has even been a lead vocalist for Princess Cruises.
Last, but certainly not least, is Dalten. The youngest of the sibling trio began appearing in theater productions and plays at age 4. In addition to performing, Dalten has extensive experience in the concept, design, filming, and editing of videos which, synchronized with music, help create the visually immersive experience at their performances.
Back for another year
Last year's workshop with the Nelsons at the Bankhead Theater was very well-received, inspiring the student participants to stay in touch as they further their musical skills. This summer's session is tailored for students in grades six through college and includes demonstration, small group work, and one-on-one coaching in various others. Cost for the weeklong program is $300.
The performance
Imagine three incredibly talented siblings combining their signature sound with stunning video displays in a musical journey that appeals to audiences of all ages. The three-part harmony arrangements of Derik Nelson & Family are as well suited to popular jazz standards from the '40s and '50s and pop hits of the '60s and '70s as they are to the chart-topping hits of today. As aforementioned, in the week leading up to the concert, the Nelsons will offer a songwriting workshop.
This camp takes place July 9 through July 13 from 10 a.m. to 4 p.m. Scholarships are available, so please contact Kiran Guleria at 925-373-6100 ext. 112 for more information.
The Derik Nelson & Family concert is set for Friday, July 13 at 8 p.m. Feel free to purchase tickets online or directly through the LVPAC website.