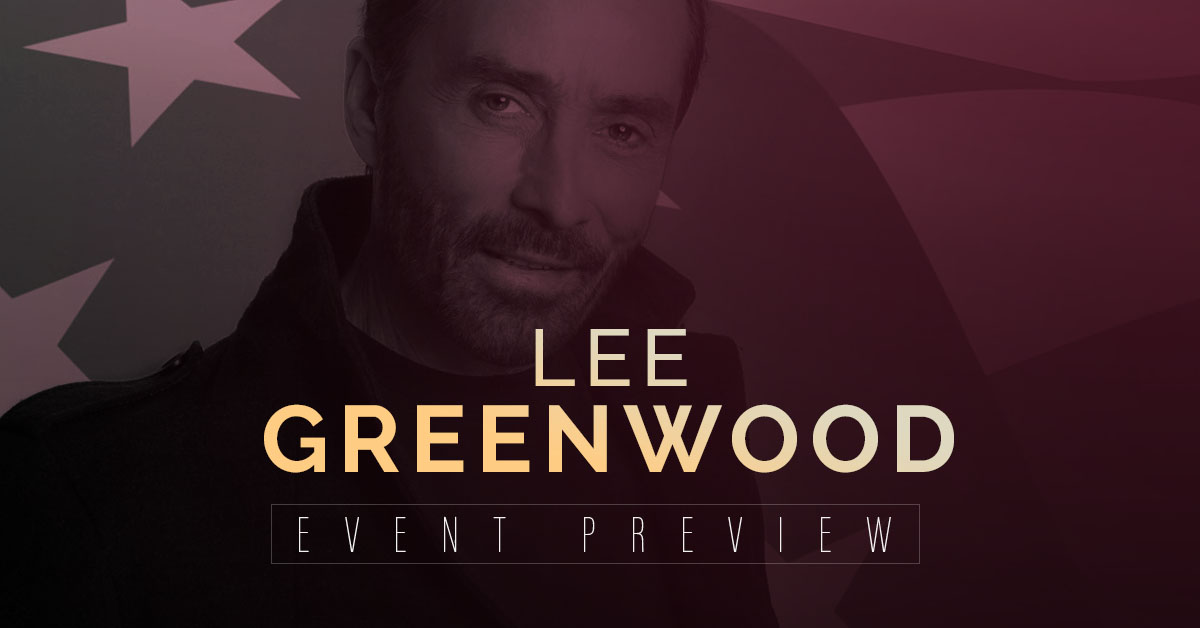 Start making plans to celebrate Independence Day at the Bankhead Theater. Grammy Award-winner Lee Greenwood will deliver a patriotic finish to the week, filling the venue with familiar country music such as his iconic song "God Bless the U.S.A." Keep reading to learn more about Greenwood, as well as ticket information.
About Lee Greenwood
Let's go back to Greenwood's hit "God Bless the U.S.A." for a moment. Not only was it named the 1985 Country Music Association Song of the Year, but "God Bless the U.S.A." remains the only song in any genre to reach the top five on the country singles chart three times. Of course, Greenwood's most famous song had quite an impact in the wake of 9/11.
According to Greenwood, his goal was to write something that could unite Americans from coast to coast and instill pride in the United States.
"The song represents my family, my community, and those men and women who have paid the price for the freedoms we all love and enjoy," Greenwood said.
Without question, "God Bless the U.S.A." continues to touch a chord in the heart of all who hear it.
Music has always been a part of Greenwood's life. A native Californian, he started playing piano at age 7 and, by the end of high school, he could play most of the instruments in the orchestra. Interestingly, Greenwood passed on college sports and music scholarships and even opted out of his graduation ceremony to play at a casino in Reno, Nevada.
It was only a matter of time before Greenwood made the jump straight to Nashville.
Longtime fans of Greenwood are familiar with popular crossover tunes such as "Touch & Go Crazy," "I.O.U.," as well as his duet with Barbara Mandrell, "To Me." Greenwood was named Male Vocalist of the Year from the Country Music Association in 1983 and earned a Grammy Award for "I.O.U." His CD "American Patriot," recorded and released in 1992, went Platinum in just three months.
Most recently, Greenwood released a book, "Does God Still Bless the USA?" He is also a member of the National Endowment for the Arts Council, a presidential appointment.
The performance
Lee Greenwood will be taking the stage at the Bankhead Theater Friday, July 6 at 8 p.m. Ticket prices range from $20 to $100.
Please note that everyone, regardless of age, must have their own ticket to enter the theater. If you need student, military, or ADA tickets, please contact the LVPAC box office. It's worth reminding audience members that ADA seats or spaces are designated for wheelchairs only.
The Livermore Valley Performing Arts Center is an independent 501 (c)3 non-profit offering wide-ranging programs that provide access to the arts for the Tri-Valley community and beyond. The Bankhead Theater, together with the Bothwell Arts Center, is home to eight resident performing arts companies and over 40 studio artists and cultural arts instructors.
Please don't hesitate to contact us with questions.