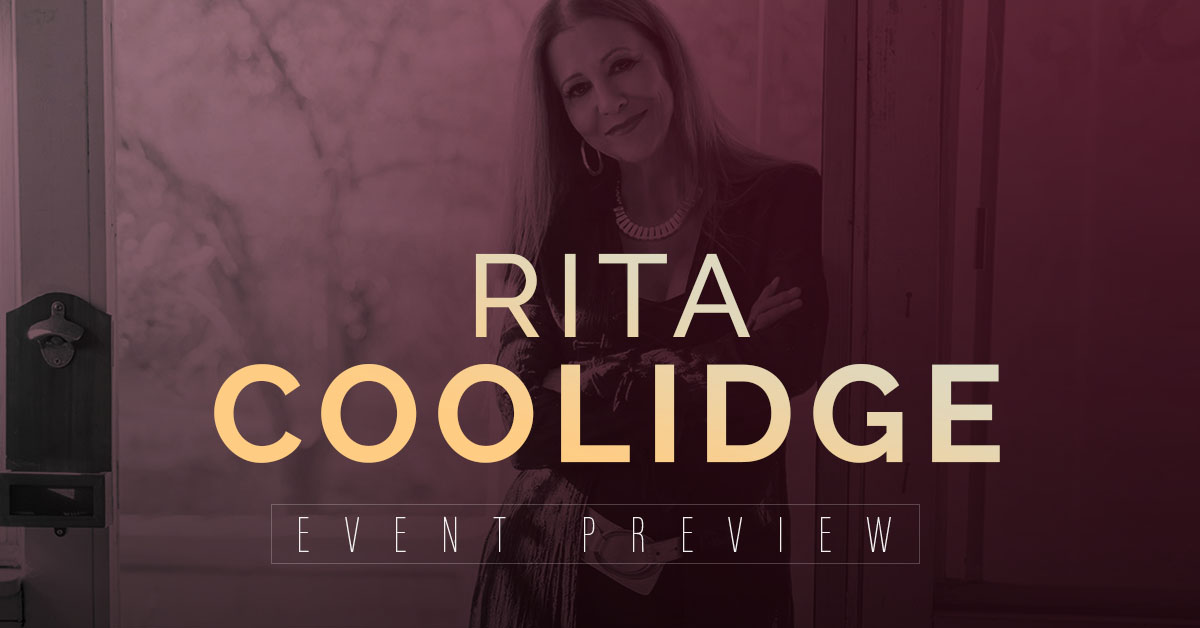 In celebration of her recently released album "Safe in the Arms of Time," legendary singer Rita Coolidge brings her tour to the Livermore Valley Performing Arts Center next month. Coolidge, one of the most versatile singers of the rock generation, soared to popularity with a string of chart-topping hits such as "We're All Alone," "(Your Love Has Lifted Me) Higher and Higher," and "One Fine Day." The clear, pure voice of the two-time Grammy Award-winner has graced every musical genre from rock, pop, and country, to jazz and folk.
About Rita Coolidge
Born near Nashville, Coolidge first sang in the church where her father was a minister. Though she always wanted to be a teacher, Coolidge chose to explore the music world after earning an art degree from Florida State University. It wasn't long before Coolidge quickly landed a job as a backup vocalist and moved to Los Angeles, where she sang with the likes of Eric Clapton, Stephen Stills, Joe Cocker, and others before earning her own recording contract.
Together with country singer/songwriter Kris Kristofferson, Coolidge turned in a string of hit songs and the Best Country Duo Grammy Awards for "From the Bottle to the Bottom" and "Lover Please." Coolidge broke out as a solo artist with 1977's "Anytime, Anywhere," and climbed the charts, filling the radio with popular hits such as "All Time High." Those who have followed Coolidge throughout her career know that, recently, she has been involved in projects that call attention to the Native American Cherokee culture.
Her illustrious 50-year career has seen the release of more than two dozen albums, including the most recent "Safe in the Arms of Time." The album brings her full circle, making a return to her songwriting roots, and coincides with her relocation from Southern California back to Florida. As she did in her acclaimed 2015 memoir, Delta Lady, Coolidge drew inspiration for new material from her personal journey.
It is this album that features creative collaborations with the songwriting talents of Graham Nash, Chris Stapleton, and Stan Lynch.
The performance
Singer/songwriter Chelsea Williams will open for Coolidge at the Bankhead Theater. Williams quickly earned a following the old-fashioned way, playing guitar and singing her country-folk songs along the Santa Monica Promenade. While singing on the Promenade and at local gigs, Williams managed to move an unprecedented 100,000 copies of her indie records and, in 2017, released her first major-label album called "Boomerang."
The Livermore Valley Performing Arts Center is excited to welcome Rita Coolidge and Chelsea Williams to the Bankhead Theater for what's expected to be a memorable evening. The performance takes place Saturday, July 7 at 8 p.m. in the Bankhead Theater.
Ticket prices range from $30 to $60. LVPAC also offers $20 tickets for students and active military personnel. Please note that all patrons, regardless of age, must have their own ticket to enter the theater.
Join us for the "Safe in the Arms of Time" Tour at the Bankhead! We hope to see you there.