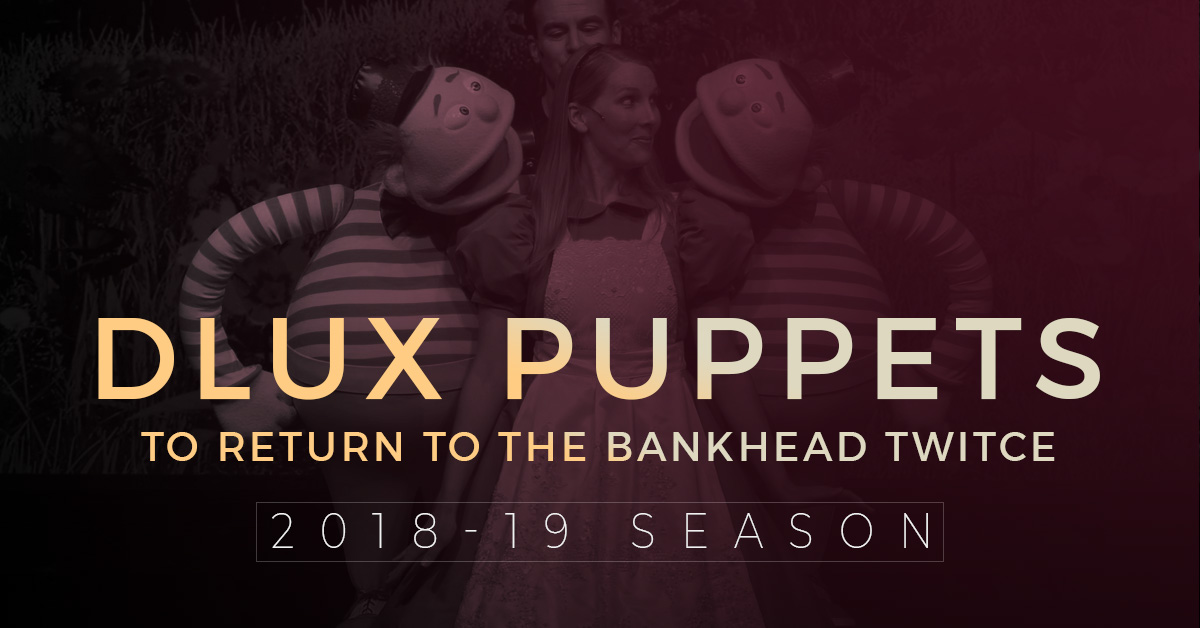 DLUX Puppets will return to the Bankhead Theater this season with two visually stunning and entertaining family shows. The multimedia retellings of "Alice in Wonderland" and "Peter Pan" use state-of-the-art digitally projected scenery, high-quality life-sized puppetry, and actors, weaving in popular songs from past decades.
Keep reading to learn more about the group and these must-see performances.
About DLUX Puppets
Now a nationally recognized company, DLUX Puppets debuted their production of Alice in Wonderland in 2017, although the project was many years in the making. A multi-talented performer and former star in San Francisco's long-running show "Beach Blanket Babylon," DLUX Puppets' founder Derek Lux has always been interested in puppets and has been actively designing and creating innovative puppets for nearly a decade.
"Alice in Wonderland" brings to life the classic tale of Alice's journey through the marvelous world of the Mad Hatter, the Cheshire Cat, and the Queen of Hearts. In the productions, all of the characters Alice encounters are intricately engineered life-size puppets, hand-built and voiced by Derek. The show's seven puppets, ranging in size from just two feet in height to over seven feet tall, each took between 100 and 200 hours to construct.
Each puppet is different from the others, both in the way they are built and in terms of style and scale. Some require Lux to step into a full harness to perform the puppet's head and arms, or to fly the Cheshire Cat's body through the air. The digitally projected scenery, created by Steve Axtell, helps tell the story with interactive images.
Alice is played by Lux's wife, second-grade teacher Lauren Lux, who developed a performance activity kit to connect the "Alice Wonderland" production with Common Core literature standards and provide a STEAM focus through the art and engineering elements in the puppets. The show also incorporates a social-emotional aspect as Alice learns from the characters in Wonderland that her words, thoughts, and feelings are powerful and that she can change them to change her world in a positive way. A similar activity kit for "Peter Pan" is also in development.
The performances
"Alice in Wonderland" returns Sunday, December 30 for two performances, including one adapted for audiences with sensory-friendly needs. DLUX Puppets' new production of "Peter Pan" will be presented at the Bankhead Theater on June 2, 2019. Tickets for both shows are priced at just $10 for students and $20 for adults.
After all performances, both Derek and Lauren Lux will be available in the lobby so members of the audience can take photos and see one of the puppets close up. In addition to the three public performances, DLUX Puppets will present additional shows for students from local elementary schools through a special arts education outreach effort, sponsored in part by the LVPAC Education Fund. For more information on school performances, please contact Kiran Guleria at education@lvpac.org.
Don't forget that we have a number of incredible performances on tap at the Bankhead Theater. Check out our events calendar and book your tickets today.