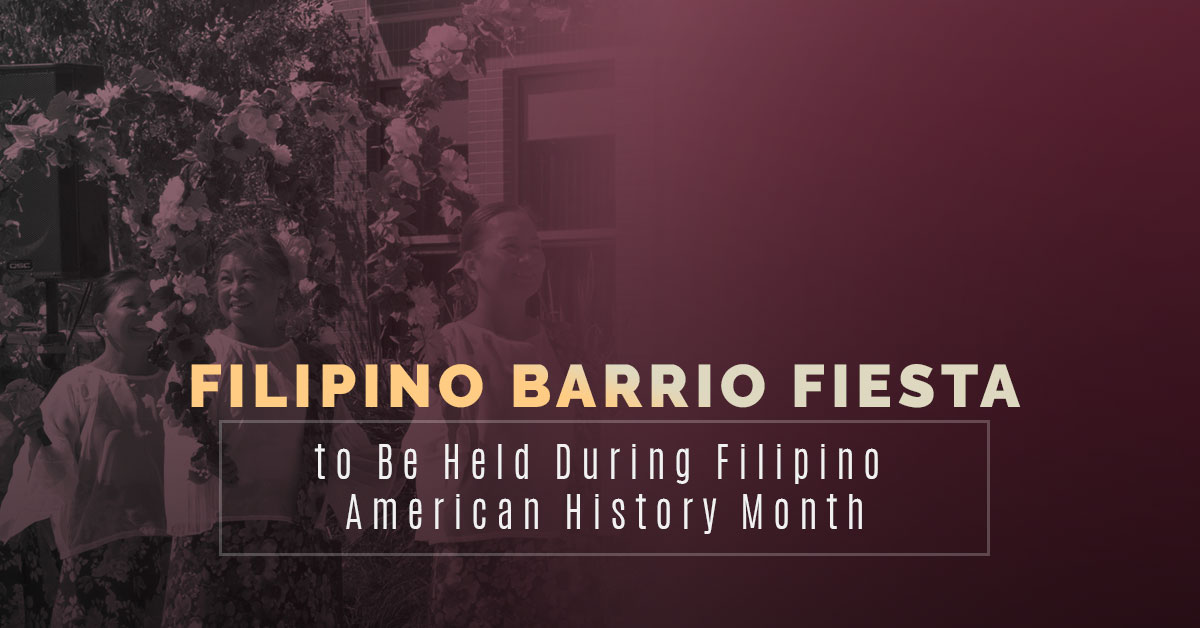 October officially marks Filipino American History Month in the United States. The Livermore Valley Performing Arts Center and Livermore Fil-Am Organization will celebrate with the third annual Filipino Barrio Fiesta. This year's event focuses on the Trinity of Past, Present, and Future of Filipino culture.
Before we talk more about this celebration, let's first discuss October's significance as Filipino American History Month. The first known presence of Filipinos in the continental United States dates back to October 18, 1587. The Filipinos, known as "Luzones Indios," came ashore from the Spanish galleon Nuestra Senora de Esperanza and landed in present-day Morro Bay, California.
Laws were passed in November of 2009 to officially recognize October as Filipino American History Month in the U.S.
About the Filipino Barrio Fiesta
The three-hour celebration includes a speech at noon by the Department Chair of Asian American Studies at UC Davis, Robyn Rodriguez. Those attending can look forward to various performances by the Livermore Fil-Am Dance Troupe, Fil-Am Veterans Rondalla, Joseph Galang, Kali Association of America, Pallen's Martial Arts, Nita Nowakowski's Dance Troupe, K Fresh, DJ Bitesize, Arthur Barinque and Denise Bridges, and Granada Hip Hop Club.
During the event, there will be Filipino food for sale, an awards presentation, Mahjong games, and historical exhibits showcasing Filipino-American arts and culture. We encourage attendees to bring roses, fruits, photos of loved ones, coins, and other objects to display on an altar that will be made as a place to respect to those Fil-Am who came before us. There will also be a community mapping project that helps trace the history of the Filipino people in the U.S.
Please note that all activities will take place on the plaza in front of the Bankhead Theater at 2400 First Street in downtown Livermore.
The Filipino Barrio Fiesta is one of many free family-oriented cultural events the Livermore Valley Performing Arts Center sponsors throughout the year. Our team also serves as co-sponsor of Taste of Africa with the Cheza Nami Foundation on October 6 from 10 a.m. to 6 p.m. Other events include Native American Day in September, Diwali Mela: Festival of the Lights in November, a Chinese New Year celebration in February, and Hispanic Heritage Day in May.
Get to know our performing arts center
The Livermore Valley Performing Arts Center is an independent non-profit offering a diverse range of programs that provide access to the arts for the Tri-Valley community and beyond. Together with the Bothwell Arts Center, we are proud to offer numerous events each year, from classes and workshops to concerts and performances. LVAC understands the power of the arts for young people, which is why our staff works tirelessly when it comes to educational outreach.
The performance
The third annual Filipino Barrio Fiesta takes place Sunday, October 7 from 11 a.m. to 2 p.m. on the plaza in front of the Bankhead Theater. We look forward to seeing you and your loved ones for this free event!
Please don't hesitate to reach out with questions.