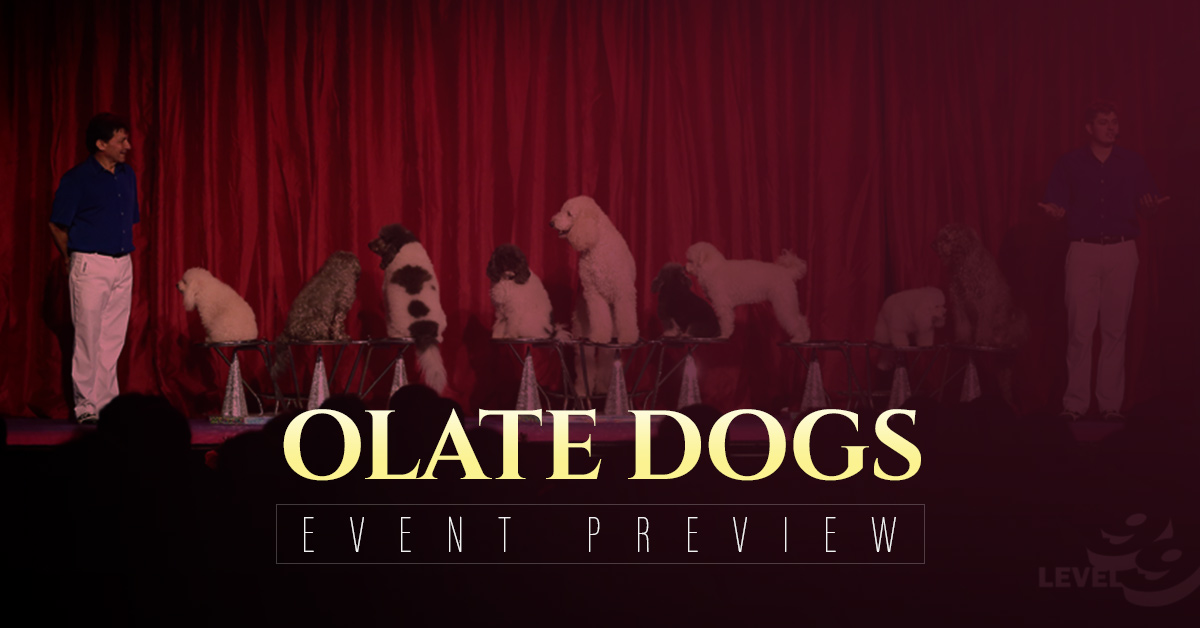 Since winning America's Got Talent in 2012, the extraordinary and irresistible Olate Dogs have stolen the hearts of audiences across the nation. These adorable rescue dogs, led by father and son, perform amazing tricks, from balancing on wheels and riding scooters to jumping rope and even doing back flips. Olate Dogs is the perfect family event over the holiday break! Keep reading to learn more about the show and how it all got started.  
About Olate Dogs
Olate Dogs truly is an American success story. Richard, a third-generation circus performer, grew up in poverty in Chile. The second youngest of 22 children, Richard found a stray dog as a young child and began to teach it tricks. It wasn't long until he adopted two more dogs and trained them as well. Richard was supporting his entire family with a dog act by age 12, performing in schools and small circuses. In 1989, Richard and his brother brought the act to the U.S. It didn't take long for Richard to meet Rebecca Smith, a circus performer who acted as a human cannonball. The two got married despite speaking different languages. Through the years, the Olates have worked in commercials and films while also performing for celebrities.
Folks often ask Richard, "How do you get the dogs to do all that stuff?" Using mostly rescue dogs, Richard uses a good deal of imitative play and plenty of patience. Going into more detail, he demonstrates the trick and then puts the dog into proper position over and over again. Slowly but surely, the dog starts to try emulating what Richard is doing.
The act known as Olate Family's Dogs appeared in the Big Apple Circus in 2001. The dogs did a variety of tricks, from walking on two legs to going down slides and jumping over hurdles. Six years later, the act was featured in the Ringling Bros. and Barnum & Bailey Circus. They were no stranger to TV, either, as they appeared on The Today Show and Live! With Regis and Kelly.
Olate Dogs really took off in 2012 thanks to America's Got Talent. Interestingly, it took Richard's son, Nicholas, to convince his dad to even audition in the first place. It's safe to say the judges absolutely loved the act. In the finale, Olate Dogs began with a dog "driving" a car onstage. The bit also included dogs walking on their hind legs, jumping tricks, and backflips. It came to an end with a wheelbarrow where one dog walked on its front legs with another pushing from behind on its rear legs. Sharon Osbourne, one of the judges, said she was watching "pure love on that stage" and that the act made her so happy. Soon after, Amy Reiter of the Los Angeles Times called Olate Dogs "the most talented puppies on the planet." Richard and Olate Dogs claimed walked away with the $1 million first-place prize.
Here are just several highlights of Olate Dogs since their AGT appearance:
Headlined the

America's Got Talent Live

at The Palazzo Theatre in 2012 and 2013

Appeared on set with Jay Leno

Made regular appearances during halftime of NBA games

Released their holiday album "The Olate Dogs Christmas" from Domo Records in 2013

Starred in "Le Sauvetage (The Rescue)," a short film that premiered at the Sonoma International Film Festival

Performed on the TV special Fox's Cause of Paws
Joined by human acrobats on a stage filled with holiday cheer, the Olate Dogs charm audiences of all ages in this high-energy, fast-paced, thoroughly entertaining show.
The Performance
The Livermore Valley Performing Arts Center is excited to welcome Olate Dogs Saturday, December 23rd at 2 p.m in the Bankhead Theater. Tickets range from $28 to $72. Don't forget that our performing arts center offers student and active military prices for all performances. Call or visit the box office to purchase these tickets.
Are you unable to make this event? Not to worry! We have a number of incredible performances on tap this holiday season. Here are just a few of them:
An Irish Christmas – Thursday, December 21st at 7:30 p.m.

New Year's Eve at the Bankhead – Sunday, December 31st at 8 p.m.

Dave Coulier – Friday, January 5th at 8 p.m.
Check out our events calendar for other upcoming performances.