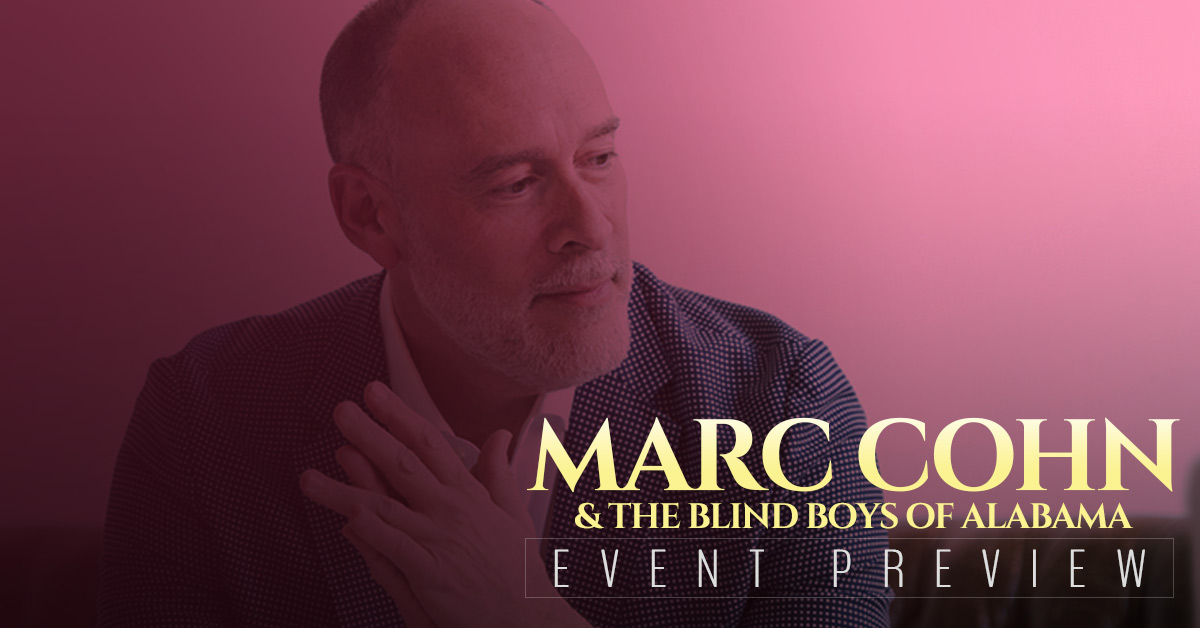 In a singularly intimate concert experience, Marc Cohn will celebrate the 25th anniversary of his Grammy Award-winning debut album by performing it in its entirety, from the iconic opening track "Walking in Memphis," to "True Companion," accompanied by photos and video from his personal archives. Cohn, one of this generation's most compelling singer/songwriters, is a natural storyteller with the precision of a brilliant tunesmith and the passion of a great soul man. He has the ability to balance the exuberant with the poignant and distill universal truths from real-life tales. Together with his special guests, legendary gospel group Blind Boys of Alabama, Cohn will share songs that have stood the test of time and have remained audience favorites for decades. The Livermore Valley Performing Arts Center is excited to welcome Cohn to the Bankhead Theater in mid-January.

About Marc Cohn
Cohn learned to play guitar and started writing songs when he was in junior high school. He later taught himself to play the piano while attending Oberlin College. After transferring to UCLA and performing in Los Angeles-area coffeehouses, Cohn moved to New York City. He got started demoing songs for writers such as Jimmy Webb, Jerry Leiber, and Mike Stoller. In 1987, Cohn performed two songs on the Phil Ramone-produced concept album of Andrew Lloyd Webber's Starlight Express, Music and Songs from Starlight Express.
Cohn served as a backing pianist for Tracy Chapman on her second album, which led him to his debut solo album two years later. Hit song "Walking in Memphis," which was nominated for Song of the Year and Best Pop Vocal at the Grammy Award, put Cohn on the map. The album was certified Gold by the RIAA in 1992 and certified Platinum in 1996. "True Companion," a popular lovers song, even became the soundtrack to a marriage proposal aired on US television's The Tonight Show Starring Johnny Carson. That year, Cohn won the Grammy Award for Best New Artist.
In 1993, Cohn released his second studio album, The Rainy Season. It included notables such as David Crosby, Graham Nash, and Bonnie Raitt. The album reached as high as number 63 on the charts. Two years later, Cohn wrote the song "My Great Escape" for the 1995 Peter Horton film The Cure. The song can be heard during the film's opening sequence. Cohn released his third solo, Burning the Daze, in 1998. He was joined by several popular artists, including country music's Rosanne Cash.   
Cohn had quite the year in 2005. For one thing, he compiled and self-released a live album called Live 04-05. In August, he was shot in the head during an attempted carjacking in Denver while on tour with Suzanne Vega. Cohn had to be hospitalized for observation but was released after eight hours. Doctors told Cohn he was "the luckiest unlucky guy they had met in a long, long time." Such adversity, along with the events of Hurricane Katrina, contributed to the emotion that he introduced in the track "Dance Back from the Grave," in Join the Parade.
From 2006 to 2016, Cohn released three compilations:
The Very Best of Marc Cohn

(June 2006)

Listening Booth: 1970

(2010) – This was a collection of cover songs that were originally released during the titular year. The album peaked at number 28 on the Billboard 200 chart. Cohn crosses genres from rock to soul to folk and pop in this album.

Careful What You Dream: Lost Songs and Rarities

(2016) – This was a collection of demos written and recorded more than 25 years before.
The Performance
Together with special guests Blind Boys of Alabama, Cohn will be appearing at the Bankhead Theater Friday, January 19th at 8 p.m. Ticket prices range from $60 to $110. Our center for performing arts is proud to offer student and active military prices for all performances. Please call or visit the box office to book these tickets.
From theatre performances to live music, the Bankhead provides a truly intimate experience for audiences and artists alike. Get your tickets today for Marc Cohn & Blind Boys of Alabama, as they're expected to sell out quickly.
Don't forget to check out our events calendar for other must-see performances in 2018!