Community4Education:
Crawdad Republic, Meredith, Meshach & Friends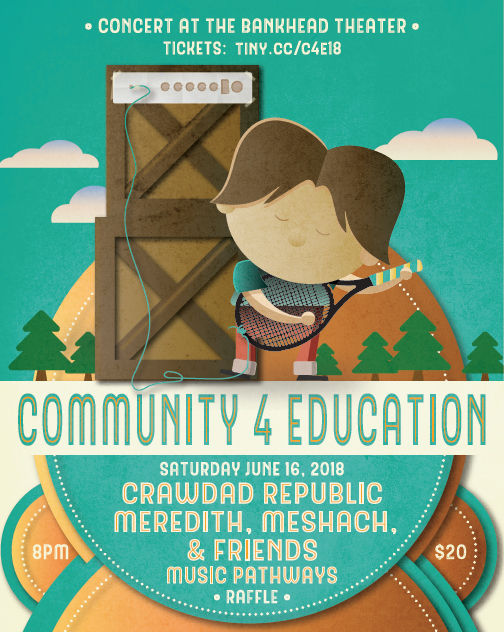 Music-filled, Family-Friendly Event
Community4Education is a music-filled event to benefit the educational outreach programs of both Livermore Valley Performing Arts Center and Livermore Valley Education Foundation. The event will begin in the afternoon on Saturday, June 16 at 4:00 p.m. with a musical showcase on the plaza outside the Bankhead Theater. Featured will be Element 116 providing jazz and big band tunes, as well as other local music groups. The music moves inside the Bankhead at 7:00 p.m. for the fundraising concert. Two local bands will keep the night alive with music — the upbeat folk and bluegrass sounds of Crawdad Republic as well as Meredith, Meshach & Friends with their engaging mix of jazz, rock, folk and country cross-genre styles. Raffle prize drawings throughout the event will add to the fun and fundraising.
The afternoon music showcase on the plaza is FREE, food will be available for purchase. Tickets to the evening performance are just $20 each.
Lobby of the Bankhead will open at 6:30 p.m. with music and refreshments available for purchase.  The performance on the stage of the Bankhead will begin at 8:00 p.m.
All participating bands have donated their time to perform.
Related Events