Easter Parade (1948) with Fred Astaire & Judy Garland
Event Navigation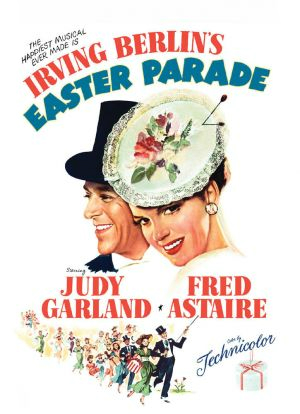 Easter Parade (1948) with Fred Astaire & Judy Garland March 14
When his dance partner leaves him, Don Hewes (Fred Astaire) declares he could dance with anyone and chooses the inexperienced Hannah (Judy Garland). In his unsuccessful attempt to remake her in the image of his former partner, Don not only discovers that Hannah has unique song and dance talents of her own, but that he has fallen in love with her. The Academy Award-winning Best Original Music Score by Irving Berlin features "We're a Couple of Swells," "It Only Happens When I Dance with You" and the famous title song, "Easter Parade."
---
Singin'in the Rain (1952) with Gene Kelly & Debbie Reynolds May 2
When the industry moves from silent films to sound in the 1920s, Don Lockwood (Gene Kelly) makes the shift gracefully but his co-star does not. When Don suggests they hire talented chorus girl Kathy Selden (Debbie Reynolds) to dub her voice, his co-star is incensed, but Don and Kathy soon discover they belong together on screen and off. Gene Kelly's exuberant "Singin' in the Rain," the sensational Cyd Charisse in "Broadway Melody," and Donald O'Connor's zany "Make 'em Laugh" help make this one of the most unforgettable song and dance films of all time.
---
Shall We Dance? (1937) with Fred Astaire & Ginger Rogers June 6
Ballet dancer Peter Peters (Fred Astaire) is obsessed with the idea of partnering with tap-dance sensation Linda Keene (Ginger Rogers) and arranges to meet her. Linda is unimpressed with him but their meeting accidently sparks a rumor that they are secretly married. In a publicity stunt designed to quell the story, they make plans to marry and then divorce, only to discover that perhaps they're happier with each other than without. The score weaves together favorite George and Ira Gershwin songs such as "Let's Call the Whole Thing Off," "They Can't Take That Away from Me," and more.