Oklahoma (1955)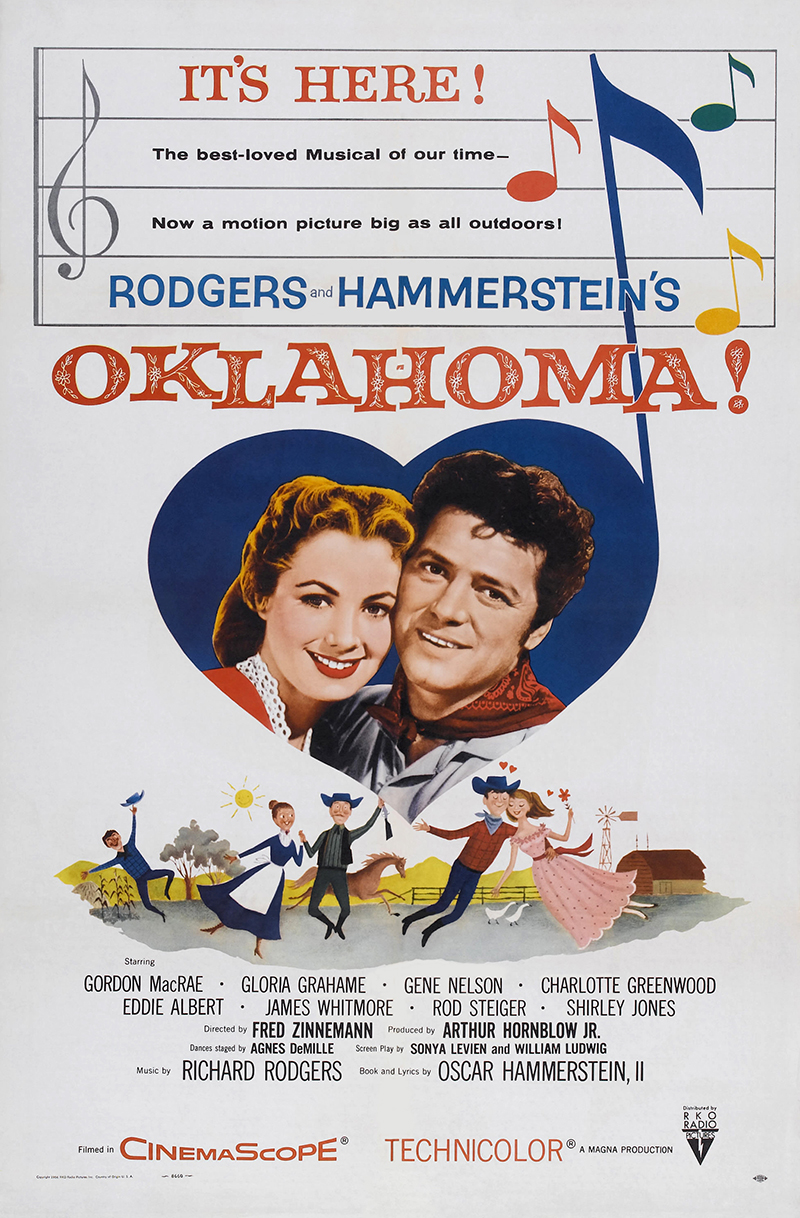 In rural Oklahoma territory where farmers and cowboys struggled for the upper hand, popular farm girl Laurey Williams (Shirley Jones) is sought after by two rivals, cowboy Curly McLain (Gordon MacRae) and farmhand Jud Fry. When her heart chooses one, the other reacts in dangerous anger. The Rogers and Hammerstein score won an Academy Award and features the famous title song, as well as "Surrey with the Fringe on Top," "Oh What a Beautiful Mornin'," and "People Will Say We're in Love." The film has been preserved by the Library of Congress for its cultural and historical significance.
---
Brigadoon (1944)  April 17
Rich in atmosphere and filled with beloved tunes such as "Almost Like Being in Love" and "Heather on the Hill," Brigadoon is a classic story of a romance that bridges time and place. New Yorker Tommy Albright (Gene Kelly) is touring the Scottish Highlands when he stumbles upon the mysterious village of Brigadoon, an enchanted hamlet that appears for just one day every 100 years. While there he meets and falls in love with the beautiful Fiona (Cyd Charisse) and must choose whether to return to his old life or remain with her in Brigadoon forever.
---
A Star is Born (1954)  May 15
A young and struggling singer who has nearly given up on her dreams of success, Ally (Judy Garland) steps up at a critical moment to help established musician Jackson Maine (James Mason). Maine recognizes her talent, encouraging her to continue to pursue a career in the movies. As they fall in love, his support and enthusiasm helps lift her to the top, even as his career plummets. Songs by Gershwin and others, such as "The Man That Got Away" and "My Melancholy Baby," became lasting hits for Garland in one of the era's most expensive films.
---
Top Hat (1935)  Feb 13
In his "Top Hat, White Tie and Tails," American dancer Jerry Travers (Fred Astaire) is set to star in a London show but finds he's more interested in winning the affections of the lovely Dale Tremont (Ginger Rogers.) A mistaken identity, a designing suitor, and some interfering friends get in the way on their road to love. Set to a memorable score by Irving Berlin, Top Hat was arguably the most successful of the dozen Astaire/Rogers films and the sleek footwork (and flying feathers) of the famous "Cheek to Cheek" remains one of their best known dance sequences.
---
TICKET PRICE = $5 EACH
(all attendees must have a ticket regardless of age)
Related Events