Art Reception: "Best Face Forward" Exhibit
Sat, January 13 @ 1:00 pm

-

3:00 pm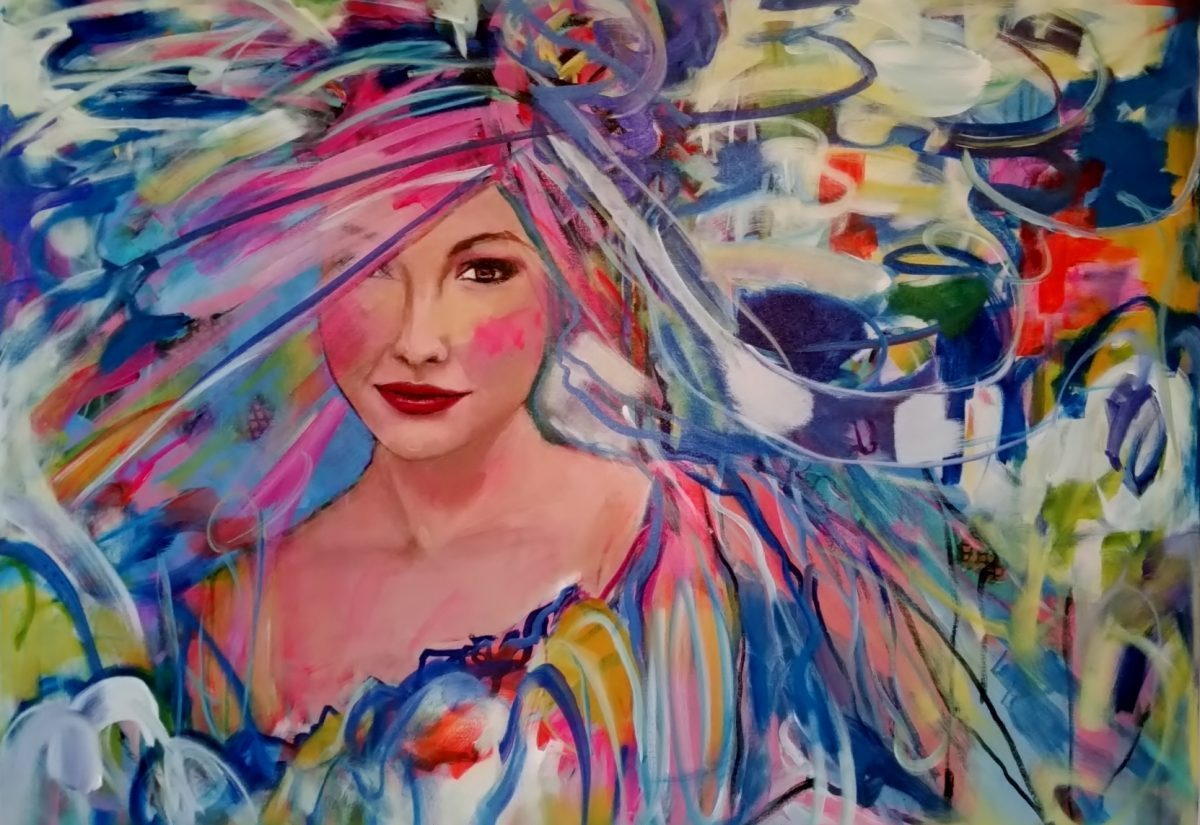 Celebrating a Diverse Range of Portraiture Styles and Subjects
Above image: "With Bells On" by Lynda Briggs

A new exhibit opening on January 10, 2018 at the Bankhead Theater Gallery, "Best Face Forward" will focus on the theme of portraiture executed in different types of media and styles. The works will feature friends, family, strangers, and pets, as well as self-portraits, by a range of artists.
One highlight of the exhibit will be a new triptych by artist Judith Kunzle, which spotlights three influential Women in the Arts from the Livermore community. The three portraits in the triptych are of Lara Webber, conductor and music director of Livermore-Amador Symphony, Erie Mills, artistic director of Livermore Valley Opera, and Lisa Tromovitch, producing artistic director of Livermore Shakespeare Festival. A vibrant new work created specifically for "Best Face Forward," Kunzle is currently at work on the triptych which will be unveiled at the exhibit in January. Based in Walnut Creek with a background in anatomy, Kunzle's work ranges from her signature pieces of dancers and the body in motion, to exotic landscapes from around the world.
Also showcased as part of "Best Face Forward" will be the work of Livermore native Jacob Hankinson. An instructor at Sadie Valeri Atelier in San Francisco, Hankinson uses primarily charcoal and oil to create portraits and figurative drawings that are characterized by a dramatic interplay between light and shadow. Hankinson's works will be featured inside the Scott Haggerty Founder's Room to the left of the Lobby.
"Best Face Forward" will be on display in the Bankhead Theater Visitors Center and Gallery from January 10 through March 5, 2018. The exhibit is free of charge and open to the public. An Artists' Reception will be held on Saturday, January 13 from 1:00 to 3:00pm, providing an opportunity to admire the works and meet the artists. Light appetizers will be served at the free afternoon event.
 Part of the Livermore Valley Performing Arts Center, the Visitor's Center and Galley is located in the lobby of the Bankhead Theater at 2400 First Street, Liver­more, and is open seven days a week from 12 noon to 6:00 p.m. Admission is free. More information is available online at
bothwell.lvpac.org
.
Related Events