"Red" by John Logan
Sun, October 21, 2018 @ 3:00 pm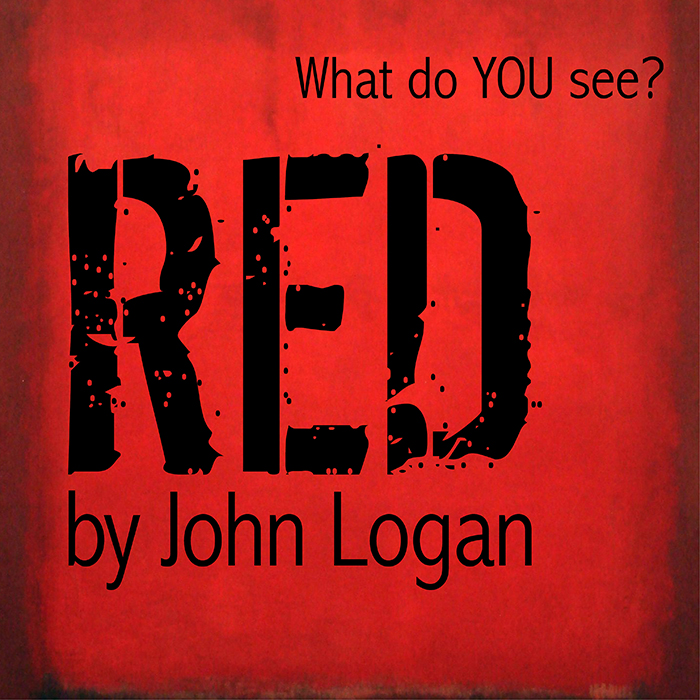 What do you see?
Written by John Logan, the taut and compelling Tony Award-winning play "Red" captures a pivotal period in the tumultuous career of abstract expressionist painter Mark Rothko. At the peak of his career in the late-1950s, Rothko was given an extremely lucrative commission to create a set of large murals for the new Four Seasons restaurant in New York. Even as he throws himself into the creation of the work, he broods over the arc of his career and weighs the commission's impact on his artistic relevance. In the studio, Rothko verbally spars with his young assistant Ken, whose emerging confidence in his own skills and sense of the changing times inspires him to challenge the master even as he learns from him.
Directed by Misty Megia, "Red" will run for five performances at the Bankhead Theater from October 18-21 starring Harvey Jordan as Rothko and Michael McDonald as Ken (bios below). In what will be a first for the Bankhead, both the set and audience seating will be positioned on the stage creating an intimate and engaging theater-in-a-theater setting.  Sets for the production are designed by Carol Edwards with lighting by Eric Johnson.
"Red" made its debut in London in 2009, featuring actors Alfred Molina (Rothko) and Eddie Redmayne (Ken), and transferred to Broadway for a limited run, achieving tremendous critical acclaim and praise as "something rare in modern drama: a totally convincing portrait of the artist as a working visionary." In 2010 "Red" was presented with the Tony Award for Best Play and Redmayne won for Featured Actor.
"Intense and exciting… a portrait of an angry and brilliant mind that asks you to feel the shape and texture of thoughts…RED captures the dynamic relationship between an artist and his creations." —The New York Times
"Smart, eloquent entertainment…deftly conjures what most plays about artists don't: the exhilaration of the act." —The New Yorker
Includes mature themes and mild profanity, not appropriate for young audiences.
Tobacco free herbal cigarettes are smoked during this performance.
After Sunday's show the actors will talk about the performance and answer your questions.
Other performance dates are Thu, Oct 18 at 7:30pm;  Fri, Oct 19 at 8pm; Sat Oct 20 at 2pm and 8pm.
HARVEY JORDAN (MARK ROTHKO):
Harvey is stepping back in to Rothko's shoes having performed the role in 2012 at Stage 3 in Sonora. As he says, "There are always new things to discover about any character," he says. "Rothko was a difficult man, his personality and his emotions are on full display. Getting to revisit the role has given me a greater perspective and helped me understand him in new ways." Harvey has appeared in a variety of roles at Steppenwolf Theatre Company, American Blues Theatre Company, and Minnesota Repertory Theater as well as in California at PCPA Theatrefest, Capitol Stage, the Davis Shakespeare Festival, and Sacramento Theatre Company.
MICHAEL MCDONALD (KEN):
Thrilled to make his first appearance as Ken, a role he auditioned for multiple times, Michael is returning to his East Bay roots. He spent his early years in Danville where he got his start on the stage and he attended performing arts high school in San Francisco before heading to University of Minnesota. Michael participated in the actor training program as part of obtaining his BFA and since appeared off Broadway in productions with The Acting Company, as well as Drury Lane Oakbrook and other regional theater companies.  He is a member of the Actor's Equity Association, the union of professional actors and stage managers.
MISTY MEGIA (DIRECTOR):
Misty has worked as a director, choreographer, set designer and performer throughout the San Francisco Bay area for over 20 years including at the Bankhead Theater. Among her many directing and choreography credits are the 2015 Tri-Valley Repertory Theatre production of "The Pirates of Penzance" at the Bankhead, as well as "Evita," "The Drowsy Chaperone," "Cinderella," "Oklahoma," and "Into the Woods." She has appeared on stage in such roles as Val in "A Chorus Line," Gloria Thorpe in "Damn Yankees," Lorraine in "42nd Street," and Virtue in "Anything Goes."
Related Events