STEAM Fest
at Marylin Elementary School
Sat, November 18, 2017 @ 10:00 am

-

3:00 pm
Event Navigation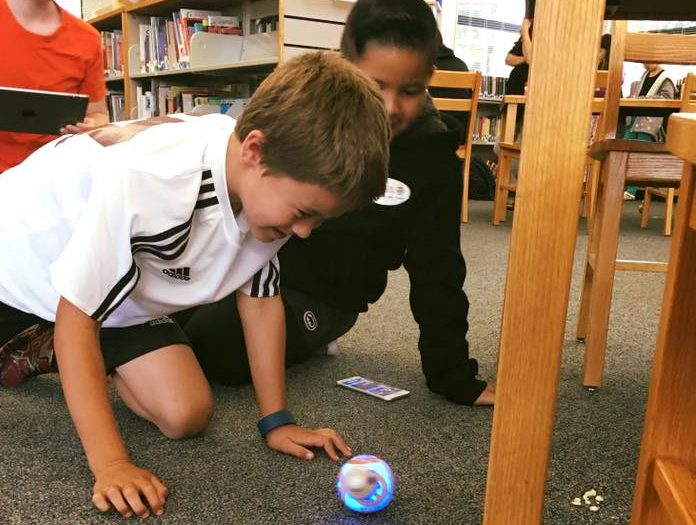 Produced by Livermore Valley Performing Arts Center

REGISTER NOW VIA MEET UP!
For the second year, Livermore Valley Performing Arts Center is teaming with the Livermore Valley Unified School District to offer STEAM Fest, for students in grades K-10 linking Science, Technology, Engineering, Arts and Mathematics curriculum in fun and engaging ways. The event includes a variety of workshops covering topics from robotics to the science of drawing. Held this year at Marylin Avenue Elementary School, STEAM Fest is open to the community. Cost is $15 per student per session.
Six hands-on sessions featuring state-of-the-art technology will be offered with such intriguing titles as "Defeat the Zombie with Java" and "Star Wars: The Program Awakens," which uses the Tickle App on Apple iPhones. Other workshops cover the science of drawing, circuit art, NAO Robots, and Python.
"Art, the 'A' in STEAM, is a vital element in providing a holistic curriculum for students in the 21st century and beyond," said Kiran Guleria, Education Program Manager for LVPAC. "STEAM programs are changing the landscape of the classroom for today's students. It has always been part of LVPAC's mission to share the arts with students in our community and to help connect the element of artistic creativity to the rest of their learning experience. STEAM Fest is one of the many ways we do that throughout the year."
The two-hour STEAM Fest workshops will be led by teachers from Devoxx4Kids whose founder, Arun Gupta, is especially enthusiastic about partnering with LVPAC for this event. Gupta echoes Guleria's comments, "These workshops expose students to the choices available in the field of technology and can spark an interest, inspiring them to pursue a career in this field. It is our passion at Devoxx4Kids to keep the Bay Area competitive by getting the next generation ready to be producers than just consumers of technology."
Produced by LVPAC with support from LVUSD, the event has also received a generous grant from the Hindu Community and Cultural Center, Shiva Hindu Temple, as well as a sponsorship from Trivalleycoderdojo to provide use of laptop computers and other technology for use during workshops.
Workshop Descriptions
Circuit Art – Recommended for students in grades K – 3
This session is about having fun with play dough while learning about electricity and circuits. Students will create items using play dough, batteries, LEDs, and more. Simpler creations will be controlled by the open source micro-controller, Arduino.
Star Wars: The Programmer Awakens – Recommended for students in grades 3 – 5
Students will be using block-based programming on the mobile app Tickle to program a droid that looks like BB-8 from Star Wars. Using control structures, variables, and operators, students will program the BB-8 droid to explore, run from storm troopers, and infiltrate a base. Students are engaged with programming while having fun.
Science of Drawing Art – Recommended for students in grades 3 – 8
Student will gain knowledge, skills, and understanding to enhance the artistic process through drawing. They will learn the proportions and features of the head, how to render features, and have fun learning how to draw them.
Defeat the Zombies with Java – Recommended for students in grades 4 – 8
Evil zombies have taken over the planet. Participants are one of the last survivors and need to retake the planet. Working with the other zombie exterminators in the lab, students will fight off the zombies using a Raspberry Pi, touchscreen, Java, and some Oracle Clouds.
Introduction to Python Programming for Kids – Recommended for students in grades 5 – 9
Python is a highly readable computer programming language and experts believe maybe good way to educate kids about programming as first language. Students will write simple and fun programs using Python 3.6.3+ and PyCharm, and run programs with input/output statements, and logical conditional statements. Participants are students who want to explore the world of programming and learn to write fun, simple programs.
Taking Control of a NAO Robot – Recommended for students in grades 6 – 10
NAO is a 58-cm tall, fully programmable, humanoid robot. More than 10,000 copies are already in use worldwide, in laboratories, universities and high schools. In this session, we'll introduce students to the robot and them to create an application from scratch using our native software Choregraphe, interface and drag-and-drop system.
For more information or to register for STEAM Fest, visit lvpac.org or contact Kiran Guleria at kguleria@lvpac.org or at 925-583-2312.  Cost is $15 per session, a limited number of scholarships are available to qualifying students.
Cost $15 per session
Register Now for STEAM Fest Via Meet Up HERE
        
Related Events