Upcoming Events
Events List Navigation
March 2017
April 2017
Sleeves Up, Pants Down!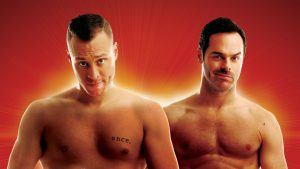 The world's naughtiest magic show flies in from Australia bringing magic, mirth and a touch of mayhem as two hot and hilarious magicians propel magic to a whole new level. With neither sleeves nor pockets, The Naked Magicians cook up a saucy magic that is both baffling and entertaining. Their boisterous R-rated magic show strips away top hats and capes, promising full frontal illusions and bringing new meaning to "now you see it." Good magicians don't need sleeves and great magicians don't need pants, and Christopher Wayne and Mike Tyler are happy to prove it!
No Full Frontal Nudity.  Adults Only.
Find out more »
+ Export Events