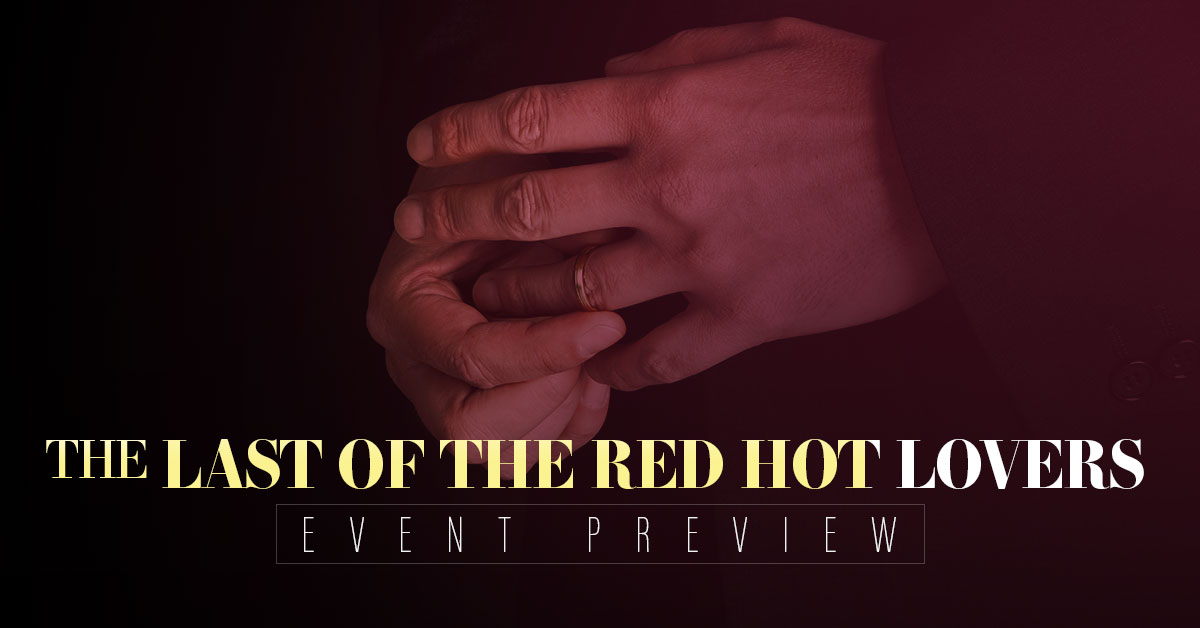 In 1969, the play Last of the Red Hot Lovers opened on Broadway at the Eugene O'Neill Theatre. The comedy by Neil Simon finally closed nearly two years later, but not after 706 performances. Several members of the original cast were nominated for Tony Awards. Just a few weeks from now, those in Livermore and the Bay Area will be treated to a live performance of this newly conceived production of Simon's classic play.

The play gets started as the audience is introduced to the middle-aged Barney Cashman. The happily married father and restaurant owner is essentially going through a midlife crisis. Comedy quickly ensues as Barney looks for something new and different. That change comes when Barney realizes that he wants to experience his secret fantasies and dreams, leading him to have an affair. The 47-year-old tries three different times with different women, but each time, something comes up that prevents the affair from happening.
Over the span of nine months, Barry invites three different women to his mother's Manhattan apartment. The first two women are pegged as sexually liberated women from the 1960s. Barry's first is a married woman named Elaine Navazio, who frequently engages in affairs simply because she enjoys the rush. Barry, on the other hand, is nervous and wants their time together to be meaningful. A frustrated Elaine storms out, leaving Barry by himself. Though he promises himself to never be attempted again, he repeats the awkward experience with Bobbi Michele, a younger actress friend and Jeannette Fisher, his wife's best friend and a staunch moralist.
Last of the Red Hot Lovers takes a variety of themes into consideration, including mortality, the generation gap, an era of drastic changes in accepted standards of mortality, and others. Even more so, Simon's work examines what it means to grow older and ponder whether or not one has lived life to the fullest.
The comedic plot comes to a close when Barney rediscovers love in the last place he thought to look. In 1972, the play was made into a hit film starring Alan Arkin and Sally Kellerman. Now it's time to fall in love with it all over again.
Last of the Red Hot Lovers will be performed Thursday, March 16 at 7:30 p.m. at the Bankhead Theater. Tickets range from $35-60.
Things to Know About Our Performing Arts Center
After you purchase your tickets to any of our events, we recommend that you plan your visit accordingly so that your time with us is enjoyable.
Here are several tips when planning your visit:
Parking is free! Keep in mind that there's a drop-off/pickup area located on Railroad Avenue, on the right side of the street, before you reach the stoplight to enter the parking garage.

Click here

for more information regarding directions and parking.

Please be aware the wheelchair accessible seats can't be purchased online. You must call our Ticket Office for seating arrangements. Our center for performing arts offers handicapped-reserved spaces in the parking garage, an elevator on the main lobby, free assistive listening devices, as well as fully accessible restrooms in the main and upper lobbies.

In terms of house rules, the theater lobby opens one hour prior to performance time. Every performance will begin promptly at the advertised time on the event calendar. Please note that no food or beverages are permitted in the auditorium and that we don't allow photography, video, or sound recording. As a service to others, we will ask that patrons silence all electronics and wireless devices.

LVPC requires a paid ticket for every person entering the theater, including infants and children. Though we have a number of family shows, please keep in mind that silence is necessary to fully enjoy the performance and that it may not be best for small children to attend certain events.

We offer a full-service concessions area located in the Garden Courtyard Foyer on the east side of the theater lobby to enhance your experience. Choose from a variety of desserts, coffee, tea, juices, soft drinks, as well as award-winning wine and beer. The courtyard includes plenty of tables and chairs, in addition to soothing water and colorful garden paintings.