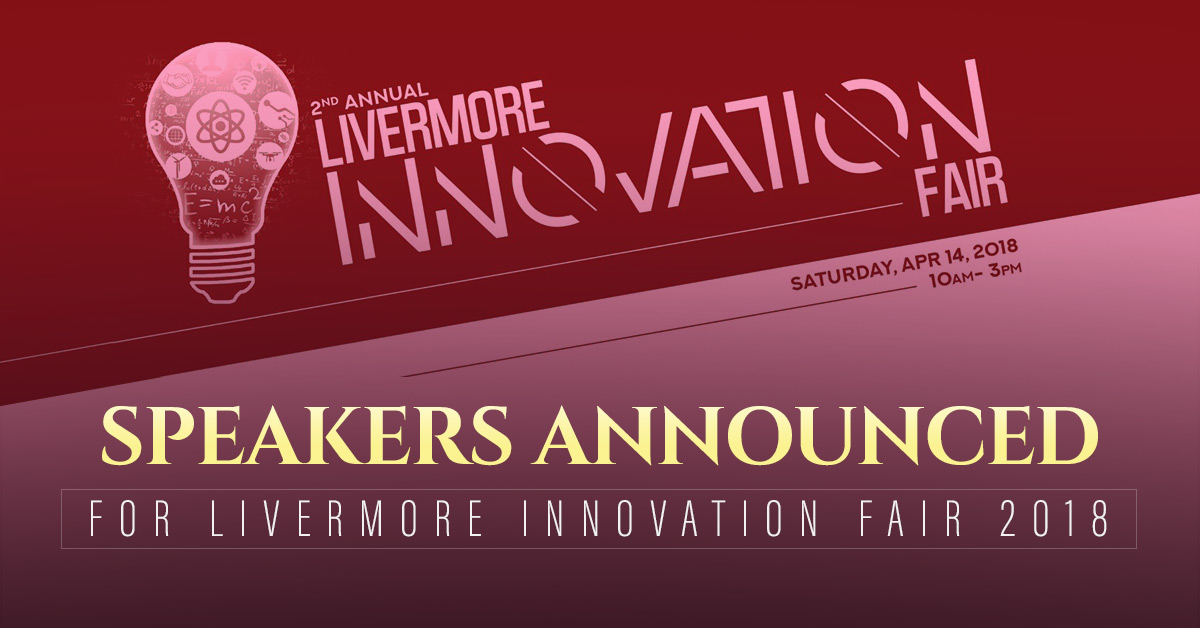 The Annual Livermore Innovation Fair will expand the list of speakers in 2018 to include three leading science and technology pioneers, NASA Ames Research scientist Peter Graube, Jack McCauley of Oculus Rift, as well as fifth-generation winemaker Karl Wente. This completely free family-friendly event is set to take place Saturday, April 14th from 10 a.m. to 3 p.m. at the Bankhead Theater. For those who aren't familiar with the event, the Innovation Fair fosters a unique connection between the five STEAM (Science, Technology, Engineering, Arts, and Math) disciplines. Not only that, but the Innovation Fair combines a science fair with a high-tech exhibition, art show, and community celebration. Keep reading to learn more about this one-of-a-kind event.
About the Speakers
This year, three local science and technology leaders will share their insights on creativity and innovation. Peter Graube, a trained engineer with a fascination for machine automation, brings more than three decades of experience at NASA working on wind tunnels, jets, centrifuges, and rockets among his many projects. Karl Wente, vice president of winemaking at the Wente Family Estates, holds degrees in chemical engineering, viticulture, and enology. Wente is an expert when it comes to combining current technologies with the hands-on traditions of his winemaking family. Last, but certainly not least, is Jack McCauley. The co-founder and chief engineer was instrumental in taking the Oculus Rift virtual reality headset from prototype to build but is equally well-known for designing the guitar and drums in the popular video game Guitar Hero.
Why Attend the Event?
There are countless ways art and technology intersect in the world around us. It's our hope that this event sparks the imagination in your entire family. Those who attend can enjoy everything from scientific displays and visual art to technology experiments and so much more. On top of all that, there will be live music performances on the plaza as well. In 2017, more than a thousand students from Livermore communities took part in the Innovation Fair. They took advantage of the opportunity to explore new innovations in robotics, 3D printing, rocketry, telepresence, remotely operated, vehicles, and more.
Educational Outreach
Kelly Bowers, superintendent of Livermore schools, recently mentioned that the Innovation Fair is enthusiastically embraced and appreciated by the entire district. Said Bowers: "At all grade levels, students are excited by hands-on activities that challenge and inspire them to solve problems or to create new products. The Innovation Fair is a welcome community opportunity for all of our families to explore arts and technology."
Even though the event is free, the LVPAC staff encourages online registration. All registered attendees will automatically be entered into a drawing to win special prizes. Keep in mind that admission to the theater for the speaker sessions is first-come, first-served and limited to space available. The Second Annual Livermore Innovation Fair "Art in Technology" is made possible through the generosity of major sponsors such as Lawrence Livermore National Laboratories, Topcon Positioning Systems, Lam Research, Black Lab, and a number of other companies who have provided invaluable resources and support.
More than Just a Center for Performing Arts
As aforementioned, we want everyone to have the opportunity to experience the arts. It's why LVPAC presents performances at schools and at the Bankhead Theater while also providing free monthly family events. All year long, LVPAC funds plenty of cultural arts programs, master classes, and the East Bay Jazz High School All-Stars program. Our staff also helps subsidize $17 student tickets for all LVPAC Presents performances. It's important to know that portions of these activities are underwritten by generous contributions and matching gifts to our education fund.
We are more than just another local arts center that puts on occasional performances. LVPAC plays an integral role in the community, helping share the performing arts with children. If you're interested in learning more about these programs, please don't hesitate to get in touch with us.The Second Annual Innovation Fair is shaping up to be our largest educational outreach effort for 2018! Those who register now will be automatically entered for prize drawings. What are you waiting for? The Innovation Fair is the perfect opportunity to get out with the whole family and do something different that's completely free.