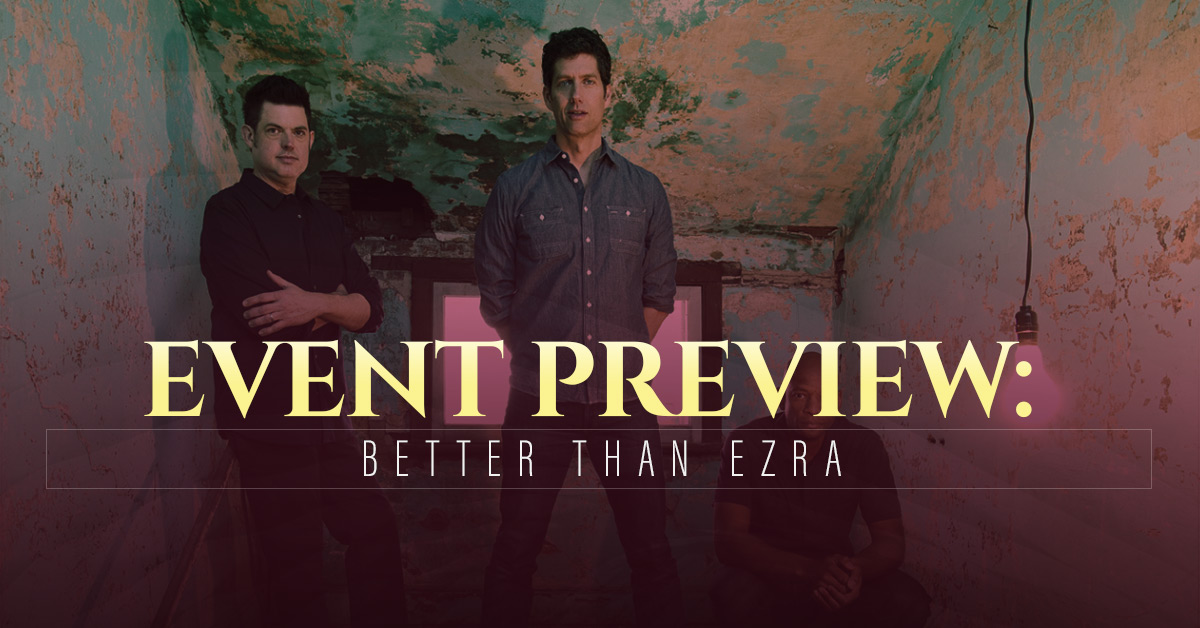 You probably remember them for their chart-topping 1995 hit "Good." The Livermore Valley Performing Arts Center is proud to bring the fresh, accessible alternative rock sound of Better Than Ezra to the Bankhead Theater. Keep reading to learn more about one of the most notable groups of the '90s.
About Better Than Ezra
Guitarist Kevin Griffin and bassist Tom Drummond first met while attending Louisiana State University. Along with guitarist Joel Rundell and drummer Cary Bonnecaze, the band paid their dues on the road to get their music heard, taking whatever gigs came along. Their accessible songs and musical style quickly pulled a faithful audience, but as Drummond told The Telegraph, the memories of those challenging early years still resonate.
Better Than Ezra faced quite the obstacle when they lost Rundell to suicide. However, the remaining trio chased the dream for years before their debut album Deluxe got them a record deal. In 1994, they were declared the hot band of the SXSW music festival.
Nearly 25 years later, it's still apparent the group is having fun together. Take it from Pennsylvania's The Morning Call newspaper, which praised Better Than Ezra as "Definitely as good as you remember."
Their music
Let's get back to the aforementioned "Good" by Better Than Ezra. This joyous anthem about pulling the plug on a relationship topped the charts in just seven weeks. It was soon followed by "In the Blood" and "Rosealia" taking the group's debut album to platinum.
For those not all that familiar with Better Than Ezra, their music connects with a broad audience and has been heard all across the radio dial and featured on countless television shows. Diehard fans certainly remember when Taylor Swift covered their track "Breathless" when their song "Juicy" was licensed to Desperate Housewives.
Most recently, Better than Ezra came out with their eighth studio album. All Together Now is a collection of crisp, electro-pop inspired songs with the Top 40 single "Crazy Lucky." Simply put, Better Than Ezra continues to strike an incredible balance between nostalgia and fresh.
The alt-rock group is known for more than just their music. The band formed the Better Than Ezra Foundation as a way to give back to their native New Orleans with charity venues to benefit everything from coastal restoration to after-school programs for underprivileged kids.
A summer of music at the Bankhead Theater
The Livermore Valley Performing Arts Center is gearing up for a busy summer! Make it a point to get to the Bankhead Theater for performances by Lee Greenwood, Rockapella and The Company Men, Indigenous with Chris Duarte, and Keiko Matsui.
The Bankhead Theater will also present "Psychedelic Summer" on August 3rd. This community concert will feature local rock and roll band LunaFish and Friends for just $20 per ticket. Stay tuned for additional details.
The performance
Our performing arts center welcomes Better Than Ezra to the Bankhead Theater June 13th at 7:30 p.m. Tickets start at just $40 with student and active military tickets available for $17.