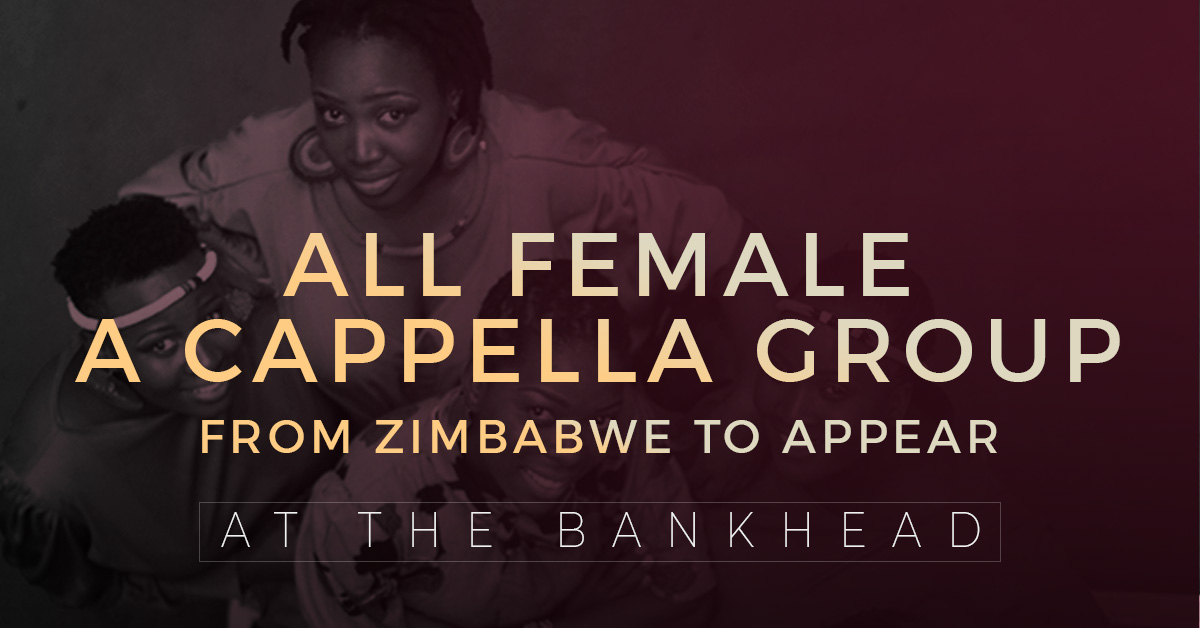 An all-female a capella quintet from Zimbabwe, Nobuntu has drawn international acclaim for their inventive musical style that ranges from traditional Zimbabwean songs to Afro Jazz and Gospel. The Livermore Valley Performing Arts Center is thrilled for an upcoming performance by Nobuntu at the Bankhead Theater. Keep reading to learn more about this unique, acclaimed group.
About Nobuntu
Nobuntu's concerts feature their pure voices and harmonies, augmented by minimal percussion, traditional instruments, such as the Mbira (thumb piano), and organic, authentic dance movements. Their smooth, melodic sound provides a musical window into the rich cultural traditions of Zimbabwe.
Nominated for Best Musician of the Year at the 2015 Zimbabwe International Women Awards in London, Nobuntu has performed at festivals and concert halls across Europe and Canada, as well as throughout the African continent. In addition to television and radio appearances, they have released two recordings called THINA (2012) and EKHAYA (2016). Their performances have been praised as "vibrant and stunning…full of sparkling energy."
The word 'Nobuntu' is an African concept that values humbleness, love, unity, and family from a woman's perspective. This vocal ensemble represents a new generation of young African women singers who celebrate and preserve their culture, beauty, and heritage through art. Nobuntu's mission is the belief that music can be an important vehicle for change, one that transcends racial, tribal, religious, gender, and economic boundaries.
About the Bankhead Theater
The Bankhead Theater in Livermore is more than just another performing arts venue. For more than a decade, artists and audiences of all types have come together in this environment. Music of all genres is presented at the Bankhead, from authentic western swing to smooth jazz.
Our staff also schedules various dance, theater, opera, comedy, and acrobatics performances. Ultimately, we strive to engage, entertain, and inspire audiences of all ages.
There's no question that exposure to the arts has the potential to transform lives. In fact, for a child, seeing, hearing, and/or taking part in a performance can ignite their imagination and fuel creativity for the rest of their lives. That's why LVPAC makes the arts accessible and affordable for everyone.
Never been to the Bankhead? Well, this one-of-a-kind facility provides a rich environment for growth on both sides of the footlights. When you consider that the Grammy Award-winning vocal group Chanticleer has praised the Bankhead for its perfect acoustics, it's no wonder why so many artists choose to make it a stop on tour.
Whether it's Nobuntu or a different group, we invite you to share in the power of live performance at the Bankhead Theater.
The performance
Nobuntu is set to appear at the Bankhead Theater on Wednesday, November 7 at 7:30 p.m. Tickets range from $20 to $50 and are going quickly so be sure to get yours as soon as possible.
Remember that the Livermore Valley Performing Arts Center offers student and military tickets to nearly every performance. If you need student, military, or ADA tickets, please contact the box office. One last thing to keep in mind is that everyone, regardless of age, must have their own ticket to enter the theater.
We look forward to seeing you at the performance!