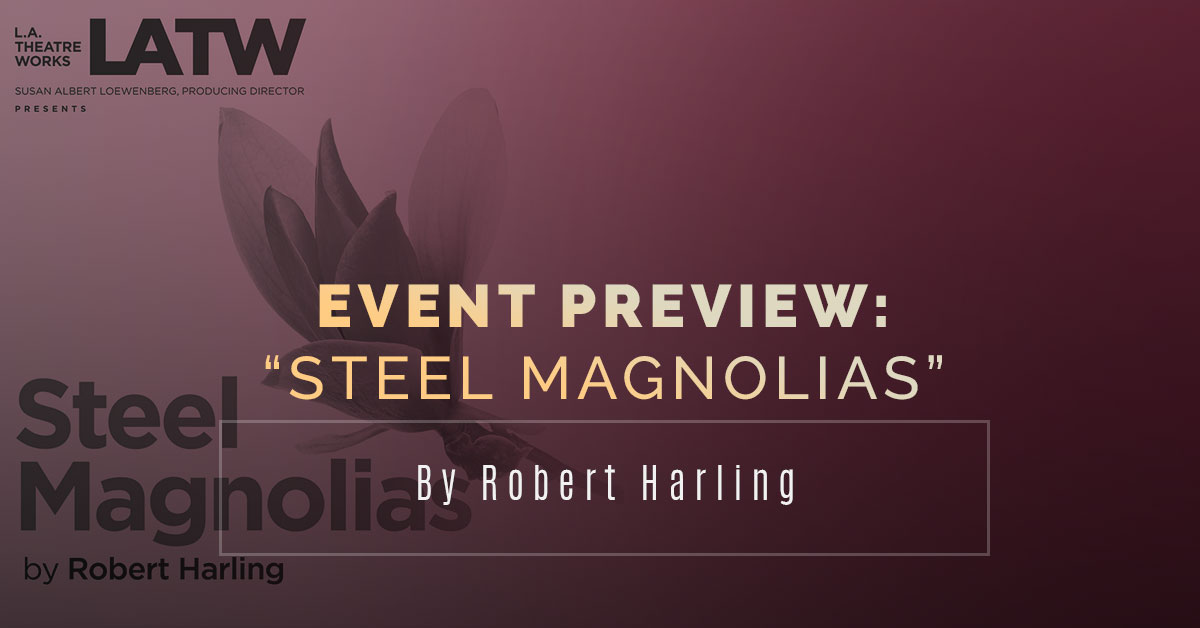 We are excited to welcome back L.A. Theatre Works for a new production of Robert Harling's "Steel Magnolias," a powerful story of resilience and friendship. Arguably better known for the 1989 film version, the play illuminates the enduring bonds created between six extraordinary women who help each other absorb and accept life's challenges and changes. A single performance of "Steel Magnolias" on Friday, October 12 opens a month of theatrical drama at the Bankhead Theater.
About "Steel Magnolias"
The play by Harling made its New York City debut in 1987 and has been staged in numerous productions around the globe, as well as memorialized in the iconic film version starring Sally Fields, Dolly Parton, and Julia Roberts. Filled with memorable characters, humor, and touching moments, "Steel Magnolias" reveals both the strength of the human condition and our shared need for companionship.
Anna Lyse Erikson, Associate Artistic Director for L.A. Theatre Works, highlights the play's focus on friendship.
Says Erikson, "These special people could be siblings, childhood pals, a college roommate, a mentor – they are the ones we'd go to any lengths to support, with whom we can disagree strongly while loving deeply. They change our lives just by being in them. Our connections with them defy the limitations of distance and time."
For the women who meet at Truvy's beauty shop, their lives increasingly hinge on each other and together they find they can face and survive more than any one of them could manage alone.
L.A. Theatre Works has been the foremost radio theatre company in the United States for more than 20 years. LATW plays are regularly broadcast internationally and their unique, live radio-style performances are known for first-rate casts and sound effects. LATW has the rare ability for fostering an immediate audience connection in all venue sizes.
They make a welcome return to the Bankhead following prior productions of Bram Stoker's "Dracula" and Abby Mann's "Judgement at Nuremberg" here
The performance
This can't-miss performance of "Steel Magnolias" takes place Friday, October 12 at 8 p.m. in the Bankhead Theater. Tickets start at just $20 but are selling quickly, so be sure to get yours before it's too late.
The Livermore Valley Performing Arts Center offers student and military tickets to nearly every performance. We ask that you contact the box office directly if you need student, military, or ADA tickets.
LVPAC is expecting a large audience for this performance, so we thought it would be good to remind attendees of the following Bankhead policies:
Everyone, including children, must have their own ticket to enter the theater.

ADA seats or spaces are designated for wheelchairs only.

Our military discount is offered only to active military personnel.
When it comes to performing arts centers in the Tri-Valley area, the Bankhead stands alone. This one-of-a-kind venue provides an intimate setting for both performers and audience members alike. So if you've never been to the Bankhead, we encourage you to purchase tickets to "Steel Magnolias."
Contact us today with any questions.