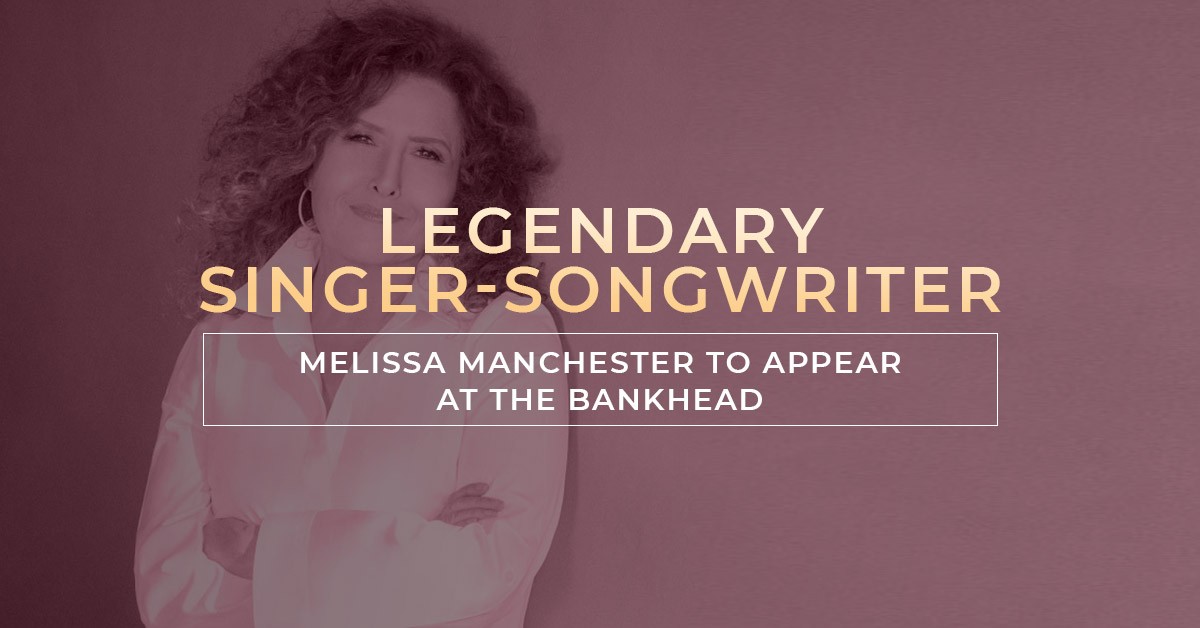 Grammy Award-winning singer-songwriter Melissa Manchester, who has been delivering heartfelt hit songs to audiences for decades, will bring cuts from across her broad catalog to the Bankhead Theater stage this coming Friday, January. 18. Manchester first soared to stardom in 1975 with her hit single "Midnight Blue" and went on to win the 1982 Best Female Vocalist Grammy Award for her disco-inspired "You Should Hear How She Talks About You."
Over the years, Manchester has built a reputation as a compelling singer and songwriter. She has always brought her own experience and truth to each song, from early hits such as "Through the Eyes of Love," "Don't Cry Out Loud" and "Just You and I," to her most recent single, "A Better Rainbow," released last fall. Along the way, Manchester has collaborated with a who's who of artists including Bette Midler, Barbra Streisand, Roberta Flack, Kathy Mattea, Johnny Mathis, and Kenny Loggins, with whom she co-wrote the radio classic, "Whenever I Call You Friend."
Manchester, a New York native, grew up on the Upper West Side in an artistically inclined family. She attended New York University and started her own career on the songwriting staff for a music company. On the jingle circuit, she met Barry Manilow whose introduction to Bette Midler led to her performing as one of Midler's backup singers and dancers before signing her own recording contract. Manchester's broad and versatile talents span both singing and acting, and she has appeared on stage, film, and television. In addition to writing the popular songs for which she is best known, she has also composed for film scores and musicals.
Since her first album in 1973, Manchester has released more than 20 more, including her most recent "The Fellas" as a tribute to the male singers and songwriters who influenced her career. She has called the album a "love letter" to Frank Sinatra, Mel Torme, Nat King Cole, Tony Bennett and more, with renditions of such favorites as "Night and Day," "Love is Just Around the Corner," and "Smile." "The Fellas," which was released in 2017, came 25 years after her album "Tribute" honoring the great female singers she admired.
In an intimate concert on the Bankhead stage, Manchester will bring her own engaging style to music across a range of genres, from pop and rock to Broadway and jazz.
The performance
Tickets are selling fast for this single performance at the Bankhead on Jan. 18. While the $20 regular ticket level is already sold out, discounted tickets for students and active military personnel are still available at that price. Note that remaining seats are just $40.
The Livermore Valley Performing Arts Center is an independent 501(c)3 non-profit offering wide-ranging programs that provide access to the arts for the Tri-Valley community and beyond. Together with the Bothwell Arts Center, the Bankhead Theater is home to eight resident performing arts companies and over 40 studio artists and cultural arts instructors.
Contact LVPAC for more information regarding this performance as well as others throughout 2019.