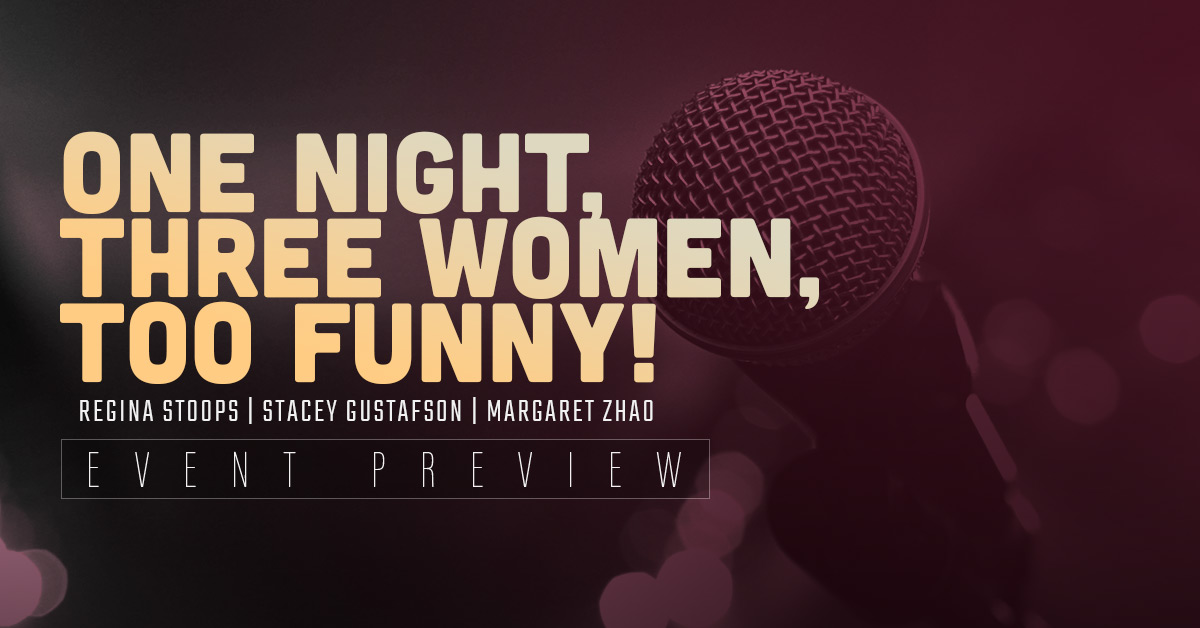 The Bothwell Arts Center is proud to present "One Night, Three Women, Too Funny," comedy fundraiser event starring local comedians Regina Stoops, Stacey Gustafson, and Margaret Zhao.
Get to Know the Comedians
Regina Stoops
How would you like to say that you were born and raised in a town called Normal? But just because of that, don't think that Regina Stoops lives a boring life. Sure, she raises three boys, has aging parents, and has constant errands to run, but there's so much more to Regina. Her comedy centers around ordinary life as she redefines what it actually means to be normal. You will quickly find entertainment along the journey of a "Catholic, Democratic, lesbian, stay-at-home soccer mom with an Autistic son" living in the suburbs. Over the years, Regina's humor connects with a wide range of audiences, from Catholic Diocese fundraisers and teacher's workshops to corporate retreats and comedy clubs.
Not sold yet on Regina? Take it from Sarah Holland, the president of Visibility Project NYC & Equal Leadership Summit, who says "Regina is one funny woman! Genuinely warm as an entertainer and side-splittingly funny as a comedienne. Her humor is quick-witted and playful, her timing impeccable. She can customize her remarks to any situation or audience, providing a good-natured, rollicking laugh ride through everyday events and human foibles."
Stacey Gustafson
Kids, parents, marriage, and midlife are all fair game for Stacey Gustafson. The St. Louis native makes a habit of turning everyday frustrations into humor. Stacey uses a tongue-in-cheek brand of humor that resonates with the audience. Aside from making people burst into laughter in person, Stacey is also an Amazon bestselling author. Her book, Are You Kidding Me? My Life with an Extremely Loud Family, Bathroom Calamities, and Crazy Relatives boasts a 4.5 out of 5 stars. Whether you dive into this book, one of her humor columns, or her blog, you can look forward to stories about parenting and daily events such as laundry, public restrooms, and being middle-aged. Stacy was recently honored as the Erma Bombeck Humor Writer of the Month.
Margaret Zhao
Simply put, Margaret Zhao was born in the wrong place at the wrong time. Margaret's award-winning memoir Really Enough; A True Story of Tyranny, Courage and Comedy goes into her struggle for survival, freedom, and forbidden love. Margaret was unfairly labeled as Enemy of the State under Chairman Mao and had to use humor and wit to survive oppressive tyranny and handle the challenges of culture shock that come with moving to the U.S. Margaret's stories of crossing cultures create surprises and uncontrollable laughs, from learning to drive to pronouncing the menu at Taco Bell. Margaret has the unique ability to not just make people laugh, but also inspire them. Through the years, she has entertained and delighted audiences of all ages at the Hollywood Laugh Factory, comedy clubs, schools, churches, and other venues.
About the Bothwell Arts Center
Along with the Bankhead Theater, the Livermore Valley Performing Arts Center also operates the Bothwell Arts Center. Since its creation, the Bothwell Arts Center has been an arts incubator, offering affordable rental space for artists, musicians, and other groups with a cultural arts focus. Currently, over 40,000 people have benefitted from classes and performances held at the Bothwell. The center sponsors a variety of activities including ArtWalk, Celtic Christmas, Holiday Boutique, New Orleans Bash, and more.
Remember that you can donate directly to the Bothwell Arts Center, which allows us to keep rents low for all of the nonprofit groups and workers that use the center.

The Performance
The Livermore Valley Performing Arts Center is excited to welcome these three women to the Bothwell on Saturday, August 26 at 7:30 p.m. Keep in mind that seating is limited, so reserve tickets today. Tickets are just $20. If interested, autographed books and a cash bar will be available in the lobby.
With September just around the corner, check our event calendar to see what's on tap at LVPAC.