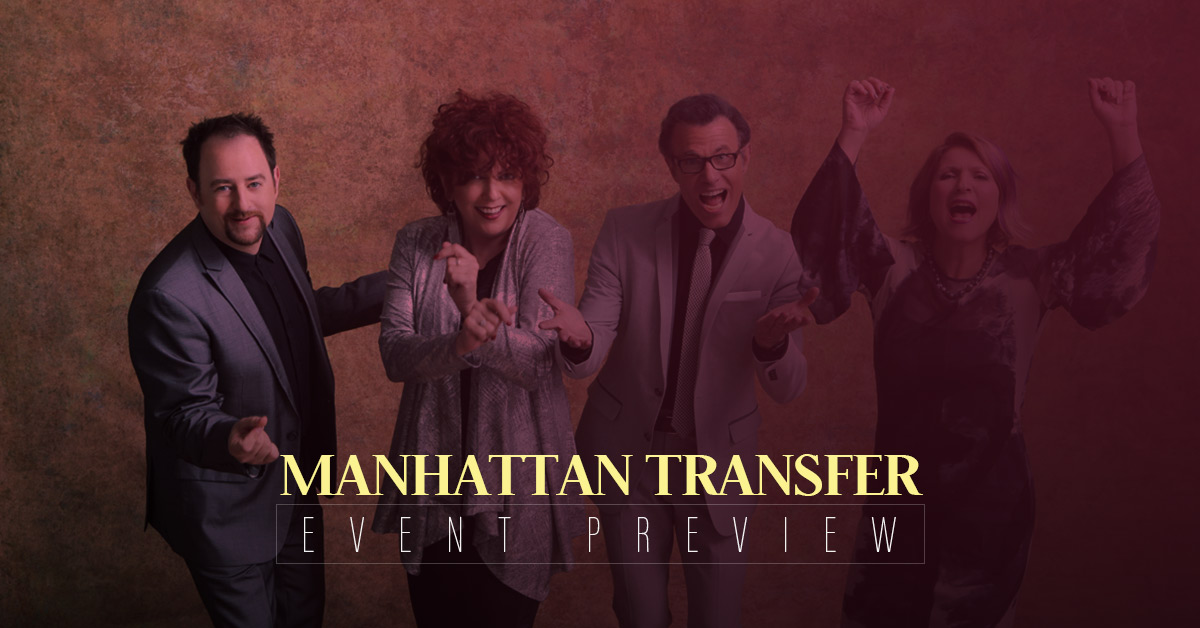 Celebrating their 45th anniversary, The Manhattan Transfer continues to set the standard as one of the world's greatest and most innovative vocal groups. Through the decades, the group maintains their sleek harmonies and distinctive sound. Their tight quartet of voices gives a modern twist to music from jazz standards to boogie-woogie and the blues. When talking about The Manhattan Transfer, you can't help but mention their renditions of "Route 66" and "Why Not!" that won them Grammy Awards in consecutive years during the early 1980s. Those weren't their only accolades, though. In fact, those two Grammys turned into 10, including one for the megahit "Boy from New York City." The group has appeared with a range of notable artists, from Tony Bennett and Frankie Valli to Smokey Robinson and James Taylor. Even after losing founder Tim Hauser in 2014, The Manhattan Transfer continues to build on his legacy. In 2017, they're looking forward to recording their 30th album.

Meet The Manhattan Transfer
Trist Curless (bass) – The newest member of the group, Trist is no stranger to vocal harmonies. As mentioned on the official Manhattan Transfer website, he co-founded the pop-jazz vocal group m-pact. Not to mention, Trist has performed in festivals and concert halls around the world. He continues to write, arrange, and produce many of the group's songs. Outside of his time with the Manhattan Transfer, Trist teaches private voice lessons and participates as a clinician and adjudicator in clinics and festivals around the world.
Janis Siegel (alto) – Janis' unmistakable voice and The Manhattan Transfer go hand in hand. She sang lead on hits such as "Operator," "Twilight Zone," and "Birdland," among others. Janis even gained a reputation as a vocal arranger by writing seven charts for the group's Grammy-winning album "Brasil." In 1999, Janis and her Manhattan Transfer colleagues were among the first class of inductees into the Vocal Group Hall of Fame. Along with team member Alan Paul, Janis represented America in 2012 as teachers and judges for the first online singing competition in China. Janis released her 10th solo CD on Palmetto Records, which includes two solo collaborations called "Honey & Air" and "Some Other Time."
Alan Paul (tenor) – One of the group's founding members, Alan is an eight-time Grammy Award recipient. Alan had an early start in the spotlight as he was cast in the original Broadway production of Grease when he created the roles of Teen Angel and Johnny Casino. It was during his performance in Grease where Alan met The Manhattan Transfer. In addition to being an integral part of the group, Alan has recorded two solo albums called "Another Place in Time" and "Shu Bop." His most recent record, "Shu Bop" pays tribute to classic doo-wop and popular music from the 1950s and 60s. When Alan isn't touring with The Manhattan Transfer, he enjoys teaching voice and leading vocal jazz masterclasses for aspiring singers.  
Cheryl Bentyne (soprano) – The daughter of a band leader, Cheryl had roots in classic jazz and swing from the beginning. Cheryl graduated from high school early to move to Seattle and join The New Deal Rhythm Band. After four years on the road with the group, Cheryl moved to Los Angeles, where she sang regularly at the Troubadour's "Hoot Nights" at the Bla Bla Cafe in Studio City. The rest is history after Cheryl was asked if she wanted to audition for The Manhattan Transfer. In addition to the Grammy Awards won with The Manhattan Transfer, she also won a shared Grammy for a vocal experiment known as "Another Night in Tunisia." Cheryl's voice has appeared in numerous films including Mortal thoughts, A Dangerous Woman, and Dick Tracy.   
The Performance
The Manhattan Transfer is set to appear at the Bankhead Theater Saturday, November 11th at 8 p.m. Ticket prices range from $50-$100. The Livermore Valley Performing Arts Center is proud to offer student and active military prices for all performances. Buy your tickets today, as this event is expected to sell out quickly! Don't miss out on the chance to see this special performance from such a storied group. For more information, please don't hesitate to call the box office.
Check out our events calendar for other upcoming performances.