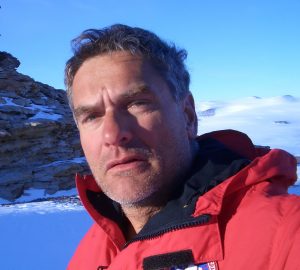 Called "the Indiana Jones of NASA," astrobiologist Dr. Chris McKay of NASA's Ames Research Center will be the keynote speaker at the inaugural Livermore Innovation Fair, "By Earth, By Water, By Air." A joint project led by Livermore Valley Performing Arts Center, Livermore Valley Education Foundation, tech-focused non-profit iGate, and Livermore Valley Joint Unified School District, the fair will be held April 8, 2017 at the Bankhead Theater. The free event has been developed to spark interest and reinforce connections between the science, technology, engineering, arts and math (STEAM) disciplines for K-12 students and their families.
The opening ceremony for the Innovation Fair will take place at 11:00 a.m. with the raising of the American flag by drones coordinated by Pilot William Robinson, assisted by two other pilots. The flag will be raised into the air by four DJI drones as the national anthem is sung by the Cantabella Children's Choir. Following the pledge of allegiance, Assembly women Catherine Baker, members of Congressman Eric Swalwell's office, and the Livermore City Council will welcome attendees.
The family-friendly event will feature hands-on experiences, scientific displays, visual art, and technology experiments for all ages inside and outside the Bankhead, as well as live music performances on the plaza. "By Earth, By Water, By Air" has been generously funded in part by key sponsors: Lawrence Livermore National Security LLC, Lam Research, and Topcon Positioning Systems.
As a scientist at NASA, Dr. McKay ventures to some of Earth's most extreme environments searching for the closest facsimiles he can find to Mars and other distant outposts. His mission is to learn how life might exist beyond our planet. At the Innovation Fair, he will talk about the search for a second genesis of life in our solar system, where we might find it, and how different it will be from life as we know it. He will also talk about the evolution of the solar system and plans for future Mars missions, including human exploration. Dr. McKay's presentation will begin at 12:00 noon inside the Bankhead Theater. Admission is free.